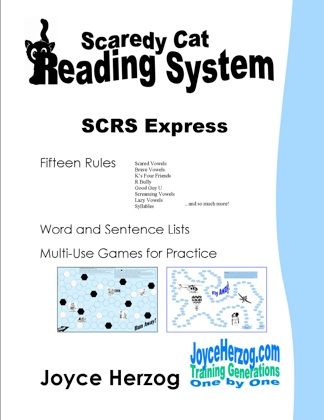 Scaredy Cat Reading System - SCRS Express
($30.00) was created to help an advanced reader to learn and memorize the 15 rules of grammar, including special cases of long and short vowels, the R bully, K's friends, Good guy U, Lazy Vowels and so much more.
Included in this package is the Story of the LetterMaster storybook that you can read daily with your child so that they can see these rules in action. You also receive a cd with the Rules Songs to play and sing with your children. Both are very fun ways to help them start memorizing more rules in the complex English language. Blank game boards are also included, with ideas on how to create games for your child to help them remember the rules they are learning or how to spell the words involved.
Upon receiving our package, I started reading the Educator's section. Joyce Herzog really does try to make sure that anyone teaching this system is fully prepared to use it with their children. She has provided several activity ideas that can be used with any type of learning style. There is a daily suggested lesson plan included. I was very easily able to following the suggested time frame and work our way through word lists that are also provided to help the children see each rule in use.
This program can be used on it's own as a Spelling program, or you can use it to supplement another reading program. We have another program that we are using, and since Lydia is not completely ready for spelling we used
SCRS Express
as a supplement. Lydia has enjoyed listening to the CD on a regular basis, and as she has picked up on the rules....I have been able to remind her of the rules as she is working in her other program.
Lydia: Trying to sound a word out.....
Mom: Lydia do you think that it might be a scared vowel?
Lydia: Oh yeah, it has two consonants around it...so it won't say it's name.
Mom: Right!
Pretty simple. And there are practice sentences also provided using the word lists for each rule. This helps the child to continually repeat the use of the rule through everyday words. Helps them to get the rule and word into their brain.
SCRS Express
can also be used as a starter spelling system. Using the songs and suggested word lists, you can easily help your children to read better and become better spellers. To make this option easier for parents, of course Joyce Herzog made sure to include suggestions and plans to help with this option.
How did this work for us? Well the words seemed a bit advanced for Lydia, but we were easily able to adapt this program in with her current reading program. I was able to apply the rules into her word lists (which are a bit younger and not as advanced due to her struggle in this area).
All the suggestions given in the
SCRS Express system
were easily adaptable and did not take long.....so the attention problem was held at bay. Most activities could be finished in under 10 minutes, which was very helpful. But if we needed extra time on something....(the beauty of homeschooling)...we were easily able to add the time where we needed it. I would listening to the cd and reading The Storymaster has really helped a few more reading rules to click in her head. Will we continue to use it? We are going to continue to use it along with her other reading program. I really do like the ease of adding spelling to her work, without her even realizing it too much. (She gets overwhelmed easily.)
If you would like to see if
SCRS Express
is right for you, there are sample pages that you can download and view.
Several members of the
SchoolHouse Review Crew
had the opportunity to review various products from Joyce Herzog. Take a few moments to see how these products worked out in their homes and what they recommend.