I feel that learning a second language is important. Joey has learned a few phrases here and there, but has struggled with our old Spanish software. The lessons were longer than his attention span could handle. Lydia though wanted to learn French, and no offense to everyone out there...but I wasn't feeling French as a necessary language. At least not yet. Spanish is really a second language in our area, so I felt this as more important. I was very excited to get a chance to try out Spanish for You! - Fiestas with them.
Spanish for You! is written to be used for approximately Grades 3 through 8. This program is easily adapted for use with multiple grade levels at the same time. I was able to use this with Lydia (an early 2nd grader) and Joey (in 6th grade).
It is so easy to use, everything was laid out for me. The lesson plans require little extra work for me, unless I wanted to be a little more creative and make a few of the suggested games. It is very flexible, and you can use it as little or as much as you would like each week....but bear in mind the more practice the better the kiddos will learn.
We had the opportunity to try out the Fiestas program by Spanish for You!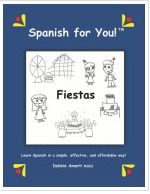 Our review copy was all downloadable, including our audio files. It was super easy to download and save. Included in the package, is a 24-30 week lesson plan to follow. Depending on the package that you choose, it is broken down by grade level. There are easy to use worksheets for each lesson. There are flash cards and also an audio file of the entire book.
I actually used the Grades 3-4 level with both Joey and Lydia. Joey has been in an easily frustrated lately, so I decided not to challenge him too much. This seemed to work for him. I included their "Spanish class" on their to-do list for their schoolwork. Now I took Spanish in High school and done really well with it, but that was over 20 years ago. I still remember bits and pieces, so my FAVORITE part of this program was the MP3 audio files.
So when they would get to the point of doing their Spanish class, I could just play the file for their section they were working in. It was that simple!!! The lessons are fairly short, and able to keep both kids attention spans. I was able to pause the files, as needed to review words/sounds with them.
With all their other interests, learning a new language has not been a top priority, but something they thought was neat. Neither see the true benefit yet. I would have to say that a lesson is maybe 20 minutes for us 2 times a week. So we are going through this slowly, but they are moving at a pace that is good for them. You could easily (and they do provide lesson plans for a 5 day a week schedule) use this in your classroom daily.
Spanish for You! does not leave you hanging. There are many suggestions on how to help your students learn the information, including ideas on how to make flashcards and games to play to create repetition. (The more the children hear and use it....the more they will remember it.)
This by far is my favorite Spanish program to use with the kids. They have enjoyed the length of the lessons, and since our study lessons have been about parties....they enjoy the content. I like that I can easily print the materials needed...lesson plans, worksheets, game materials and flashcards are already set up for me. The audio file is the real clincher in my decision to continue using this product. Since I am in refresher mode with learning Spanish, I can make sure that the kids are getting the right sounds out. It is also of great benefit to have those lesson plans (optional purchase, extra fee) laid out completely for you. Less planning!!!
You can purchase Spanish for You! - Fiestas in several different ways. If you would like to purchase the Grade 3 - 8 package it is only $64.95. You can purchase smaller units that feature specific grades. If you want Grades 3-4, grades 5-6, or Grades 7-8 you can purchase these individually for only $39.95. You can also purchase extra workbooks for only $12.95 each. The teacher lesson plans can be purchased for each grade level for only $12.95.
Several members of the SchoolHouse Review Crew had the opportunity to try out Spanish for You - Fiestas in their homes. Vist the SchoolHouse Review Crew blog to find out how it worked for them.