Parents want to do the best for their children. Most parents will give everything they have to keep their children safe and protected. If they are having trouble, the first thing parents want to do is to help them or save them from whatever trouble they are having. There are just some things though that parents cannot fix by using a bandaid or writing a check.....what about those parents with children who have special needs.
Family Hope Center has provided parents with the opportunity to really learn how to help their child and their unique, individual needs.
When you child has a cold, you treat the symptoms since you know the cold will pass. But Family Hope Center wants to help you, not by treating the symptoms....but by going to the source directly. They treat the brain.
About The Family Hope Center
from
The Team at The Family Hope Cent
on
Vimeo
.
We had the opportunity to review their DVD Understanding Child Brain Development ($19.00)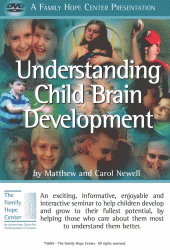 Authors Matthew and Carol Newell are child brain
developmentalists
, who have created a way for parents to understand how they can help their children. When parents are going on their journey through the land of Special Needs, doctors have a tendency to confuse and talk over parents. Parents are usually left standing and scratching their heads, just not sure what to do. The Newells help parents to understand the who, why and how of your child's development.
Understanding Child Brain Development lays out how important the parent's role is in with their child's therapy.
Understanding Child Brain Development is a seminar style video created by the Newells to introduce parents to the Developmental Progression Chart. It is packed full of scientific information to help parents understand the why of some behaviors their children have.
The amount of information in this seminar is very overwhelming. I have been watching it in small sessions in order to get the most from it. It is also very important that if you are easily distractible yourself, try to break it down. I guess I never realized trying to learn some of the more simple "whys" about the kids behavior may be able to help with the treatment.
If you have an infection, but do not take medicine to get better....no amount pain killer will get rid of the problem with the infection, it will only take care of the pain. Thus you are masking the symptoms and you will not get better. If you are only tackling symptoms, you can't take care of the problem.
It has been an interesting journey trying to understand. I really enjoyed their emphasis not on the diagnosis, but how to help the child overcome it. They do not focus on the disability, they want to help a child have their capabilities and quality of life improved.
You can order Understanding Child Brain Development by either calling, 610-397-1737 or visit the IEW site.
Several members of the Schoolhouse Review Crew had the opportunity to watch Understanding Child Brain Development. See how they enjoyed this seminar and how it helped in their homes.