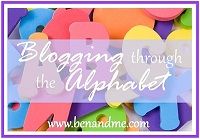 My favorite color is Yellow. I was a huge fan of green for many years, and I still like a nice Kelly green or lime green. But after Lydia was born, yellow was my new favorite color.
So here goes.....
Y is for yellow banana....you make the best smoothies and make my "mock" Wendy's Frosty's so yummy to me!! You make the best tasting bread and the secret "shhh" ingredient to my coconut chocolate chip cookies. You are a great, quick snack for me when I am in a hurry.
Y is for yellow lemon....you make my water bearable when I feel like I am drowning from drinking so much. You keep my apple slices pretty and give them a tangy touch. My dear lemon without you my avocado salad would just be brown yuck. You make me gasp as Joe and Lydia eat you just like orange slices. You make my fried rice taste so great, that I forget there is no soy sauce in it. And you give my salads such a yummy, tangy taste.
Y is for Yellow dandelion.....You are so annoying to me. You are pretty, yet everywhere. You really make me mow more than I would like. But the sheer joy you bring my Caty!!! Y is also for her little yellow nose as she smells if one of you while picking flowers for mommy! Where would I be without that yellow stained nose.
Y is for the yellow sunrise.....each day in our life is stressful and a challenge to get through. Joe and I struggle daily with all the various kids issues...and yet we chug along. Mornings are not pleasant and we don't always look forward to those unmedicated moments. But I really love a good sunrise when I am out walking in the morning to help relieve the stress that is about to be dumped on me.
Y is for Yellow Sunflower.....I still love sunflowers. I actually miss my sunflower kitchen. My aunt bought us sunflower dishes for a wedding gift, unfortunately 15 years later there are only a few plates left. I still smile fondly with memories of her when I see those plates and sunflowers.
Y is for the Yellow Brick Road. No matter how much Lydia can drive me crazy.....I still will sit and read and watch the Wizard of Oz with her.
Y is for my Peeps....I LOVE Peeps!!! I can no longer eat them due to food allergies. I do miss my Peeps. Soft soft and so flavorless....yet soooo sweet!!
Y is for the yellow leaves that we will soon see as fall fast approaching. My favorite season is Fall....I love the colors. The reds, the oranges, the yellows....so pretty. I feel the sudden need for pumpkin something.
Y is for the honey bee that makes the honey I buy to make my perfectly...yummy....paleo fudge!!!
I suddenly feel Y I am losing my head.
It's all this yakking about the Letter Y. I hope you have enjoyed my fun post :)