How do you keep yourself organized? Are you like me just searching and scraping for a way to remember how to get everything done everyday? Like everyone out there that follows our blog, there are so many hours in a day and I always feel so overwhelmed to get everything done.
Even though I read repeatedly at various sites that I needed make a list of daily tasks that I need to complete, I was always forgetting important items. I just couldn't make a great list of household chores. Then I had the opportunity to review the
Motivated Moms app
(99 cents a month or $7.99 for 12 months) from
Motivated Moms.com
.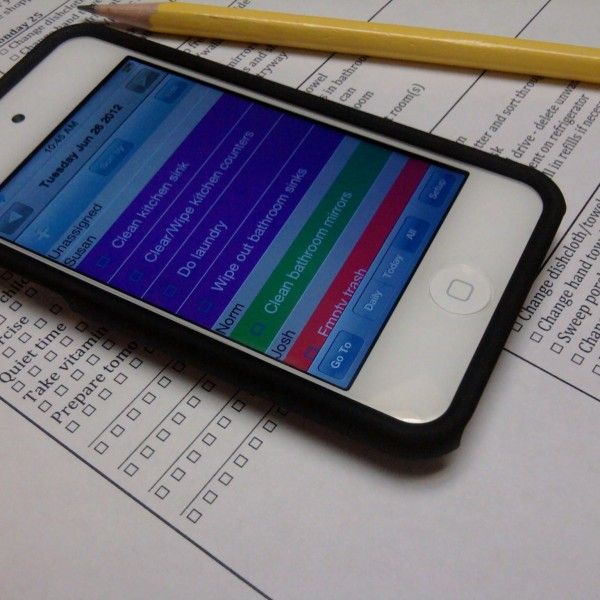 Motivated Mom app
was written by a busy mom who recognized that moms may need help writing a daily chore list for their families. The chore list is written for you to be able to finish those projects that you might forget about, but need to be completed. It is available in e-book format also, but they recognized that there are so many moms that rely on their smart phones and other electronic devices they needed an app for that too.
The app was created to be used by both Christians and non-Christians. You can include a daily bible reading suggestion as part of your daily task list.
The
app is created for iphone/ipad/ipod touch (iTunes)
as well as most Android devices (through the Google Play and Amazon Appstore). The iOS version will give you the ability to sync between iOS devices. Both versions allow you to send daily tasks through your email.
Other features include:
ability to add unlimited tasks that are unique to your family
includes those daily/monthly/yearly tasks that you may forget
ability to move tasks from one day to another day if you are not able to complete the chores that day
easily hide tasks that do not apply to your family
spread out the cleaning tasks over time, instead of needing to finish them all in one day
quick reminders for you to do things such as change filters, add batteries to smoke alarms
you can easily assign tasks by coloring coding them and sorting them
I am definitely a person who is constantly busy and because of my fibromyalgia I forget to do things constantly. Real trouble is I forget even if I am writing down a to-do list. My husband laughs at about writing paper lists in an electronic world. So I was very excited to get started and try the Motivated Moms app. I was able to review the iPhone app.
I was very impressed with the list of tasks that were given daily. It wasn't overwhelming, but it helped me to remember what I really needed to finish to try and stay on top of things. I just wish the App could have added a few more hours in the day, but I know that was asking too much...lol.
I was able to email the list to both my husband and I. I wish that the chore assignment would have transferred when I emailed this though. And yes this was all from my iPhone.
This is part of the email that you would receive you sent it to yourself. I cannot print from my iPhone yet, so I was able to print the list when I wanted to from my email.
You might think that some of these tasks are a given, but when you are working full-time, homeschooling, and balancing the schedules/activities of 4 kids all while living in brain fog....it actually helped me a lot.
I tried the
Motivated Moms app
for a couple weeks and then went cold turkey not using the App for a little over a week, just to see how well I was really liking it. The
Motivated Moms App
actually helped me to keep track of things. I could tell the difference in our house in a matter of a couple weeks and my ability to remember things. Some days I was able to accomplish the whole list, with the help of assigning tasks out. Other days depending on activity schedules, I needed to move tasks to other days. I like that I was able to add tasks that were unique to our home and family.
I am definitely going to continue using the
Motivated Moms App
. It's going to help me by keeping my husband and I on track for what we both need to get done on a daily basis. (We share household chores since currently we both work from home.) I do recommend the full-version purchase. I did try the lite version on my Android device, and I really did like the extra features that the full-version offers. I liked the idea of full-custom features. We are definitely not a cookie cutter family, so I needed to customize our list usually daily.
Check out the Motivated Moms site. They also offer
Chore Planner ebooks
give you a wide variety of options for the type of daily printable planner that you would like.