I am a huge fan of electronic apps. They are mobile and since they can be educational, apps really fit into our homeschool style. I am able to do lessons easier since I can have one child working on apps while I am working one-on-one with another.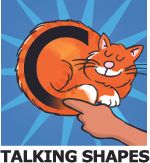 The Talking Shapes app is great for both emerging readers and struggling readers by combining both visual and fine motor skills. Children are able to see how the letters and words they are hearing appear in print. They can interact by drawing the letters, putting together the words by sounds, have the new words read to them, and then read them on their own.
I really like that the letters are embedded within a picture of the sounds. This feature offered by Talking Shapes app allows the child to easily associate the sound and the letter together. It also helps them to remember the shape of the letter when it comes to writing it. Check out the letter C above in the shape of a cat. Multiple learning styles are promoted in one activity, and it allows those who need to have further connections put together...connected.
Talking Shapes provides step by step learning. It was created to introduce all 40 speech sounds and the letters that make them in a fun and interactive way.
First the child can listen to the fun stories read to them. Caty was a big fan of the Ancient Egypt setting. Children can listen to the story and even record themselves practicing saying these sounds.
The next activity encourages proper letter form. Multiple letters form words as they advance.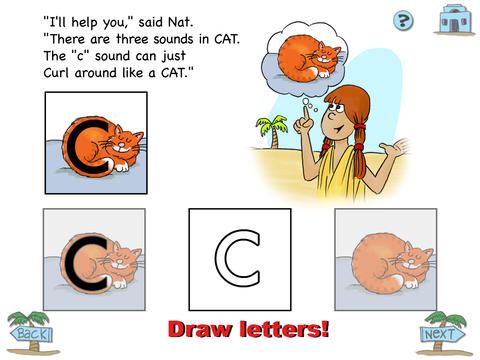 Spelling is another activity. This was fun. As you can see, letters can be dragged to the area to spell the words. The pictures of the letters, as you can see are designed to helped the children remember the shape/form of the letter and the sound. The difficulty in the drawing of the letters can be adjusted to your child's fine motor skill ability. The higher the level, the more accurate they need to be when drawing the letter. If you have an easily frustrated child like me, we kept the setting lower in this area.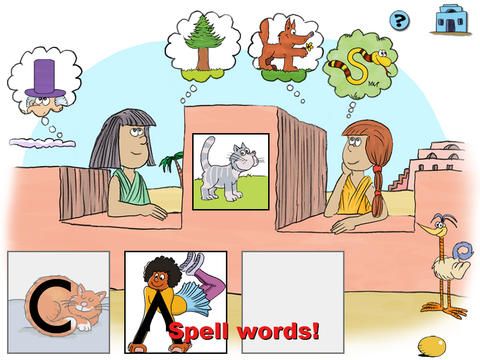 The last activity encourages the reading of the words that they have heard, drawn and spelled out.
We use the Talking Shapes app a few times a week. She plays about 15 minutes at a time on it, but she usually loses track of time and keeps playing until I make her get off. I would definitely recommend this program for educational and fun use. The cost is definitely reasonable and Caty enjoys the cartoon characters in the lessons.
I like that I don't have to sit over her shoulder and can allow her to work independently with this program. So it's great for when I need to work with another child and yet keep Caty on track for her reading.
It is also great for when we are car-schooling and on field trips. It has been great to use for example while waiting for her sister at ballet or at piano lessons. The lessons can be brief or lengthen to what you would prefer. It has been working well along with our reading program that we are currently using.
On a side note, Talking Shapes app will not work on first generation iPads, you will need a second generation or newer (which may not be an issue with some, but it was for us at first since Caty's iPad was a first gen). So double check your iPads before purchasing. We simple downloaded it on to Lydia's iPad instead and she played it on there. Compatibility: Requires iOS 6.0 or later. Compatible with iPad.


Gamucating at
Homeschool with Minecraft