Our kids are hard on tablets. They use them all the time. Needless to say I was extraordinarily nervous when Caty received an iPad mini for a gift. We had bought a cheaper case, but accidents happen. And we have a lot of accidents that happen in our house. So I was excited to get a chance to try the
KRAKEN A.M.S. CASE FOR APPLE IPAD MINI 1/2
from
Trident Case
.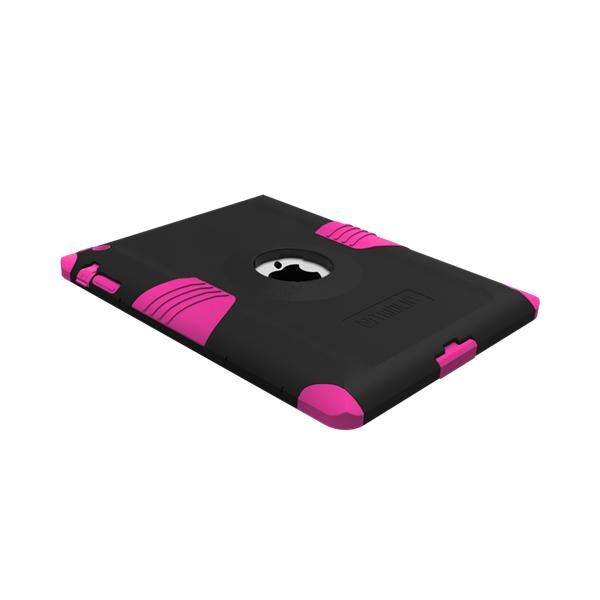 When we first received the case in the mail, it took a little while to figure out how to get the case open. My husband is very tech savvy and it took him a little bit. He said he finally found the instructions on how to open the case, inside the case once he got it open. There were no instructions on the outside of the box. He got a little frustrated, because he was afraid to break the case just opening it.
Once he got the case open, the case was extremely easy to put on. It took just about a minute to "armor up" Caty's iPad.
It is very easy to use this case, once you figure out how to open it up.
I will openly admit, I am cheap. I could not believe that the case was 20% of what the iPad mini actually cost. Plus I am skeptical of any cases that say they are the ultimate in protection for a tablet. I mean....I know my kids. They are rough.
Sure enough, while we were on a recent trip.....she dropped her iPad. I was fully expecting to pick it up off the concrete with a broken screen. I held my breath as I picked it up, and it was fine! It fell screen first on the concrete!!!
The biodegradable plastic is very tough, as it has of course, made it's way to the ground a few more times. The inside has a cushiony silicone "netting" on the inside that seems to cradle the iPad and absorb the impact that happens when it hits the ground.
I was worried about the very flexible front shield. It didn't seem that it could take much, but I was also very surprised. It does not interfere with her iPad usage, and even when she throws her tablet in her backpack it keeps the dust out.
We had an incident of car-sickness on another recent journey, and we thought that the iPad was toast. But believe it or not, the case kept all the mess out of the iPad. It was easy to clean up, and ready to go again. We used some basic cleaning wipes, and it was ready to go.
Am I still cheap? Yes, but am I looking to purchase one of these cases for my son's new Galaxy Tab....OH YEAH!!! It seems like a lot, but that investment really can extend the life of your tablet by helping to keep dirt and dust out, as well as helping to protect it from accidents that inevitably happen. So I have seen the past few weeks the benefit of spending the money on the Trident Storage Cases. These are military-tested cases that have shown me the importance of spending a little to protect your investment.
Trident cases are being purchased for all of our devices in the future.
Several other members of the Schoolhouse Review Crew were given the opportunity to try out various cases from the Trident Cases line. Please take some time to see how these products worked for their families.


Check out Trident Cases On Facebook, Google+, and their YouTube channel.