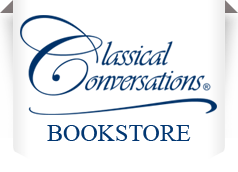 Homeschooling is definitely not an easy route to take. It's a time consuming privilege that many families have begun choosing for the benefit of their families. The early years are so easy. Simple math, simple history and all those fun science experiments. But what happens as your kids get older? Why do so many people stop homeschooling once their kids are ready for high school? I recently had the opportunity to review
The Conversation by Leigh A. Bortins
($16.00) from
Classical Conversations
.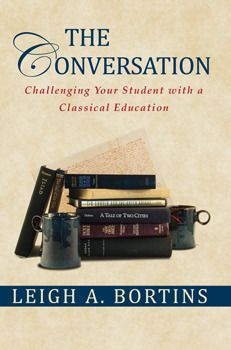 In her third book
The Conversation
, Leigh A. Bortins has used her 30 years of homeschooling experience to question parents about why they want to stop teaching their students just as they are getting a firm grasp on what they want to do with their lives and are using the knowledge they have been learning to have wonderful conversations with. She also acts as a cheerleading encouraging parents to keep going on this new adventure in their homeschooling journey.
This thought provoking book really encourages family bonding, and how homeschooling can really draw families to be closer together. These conversations also help to prep your children/students for their upcoming roles as adults. These conversations also encourage your child's love of learning and shows that education is a life-long experience and not over when you graduate high school.
One of my favorite lines in this book is:
"As classical educators and parents, we sometimes forget that we really only need four things in order to educate someone. We need a pencil, paper, good books, and time for good conversations."
This made me just stare at my rows of bookshelves overloaded with curriculum choices, games, and other educational materials. I have so many educational materials available to our children. We read from a wide variety of historical and scientific kids magazines. We visit the library and watch educational documentaries. But do we have true conversations or do I just let a few shrugs get past and think that we have covered that material and then move on.
The Conversation
has been a wonderful read, and even though it is written directly for parents/teachers with high schoolers, it can be beneficial to any parent that is struggling with the decision on how long they want to homeschool their children. This book will better prepare them for how to go through their school year and draw their children out. I can take the information that I have read and not only apply it for working my high schooler, but also apply the points back to how to encourage the love of learning in our younger kids.
The Conversation
covers all subjects to help you draw out your child in a rhetoric conversation. I had never really thought about straightforward subjects such as history and foreign language. I never thought of having conversations about math. But this type of rhetoric will allow kids to learn valuable lessons in life skills as well. In the Appendix, Leigh Bortins includes several games that you can use with your children to encourage the art of rhetoric.
The whole way through the book, she really is like a cheerleader giving parents the confidence to continue educating their children at home with a Classical Conversation.


Social Media contact information:
Facebook:
https://www.facebook.com/classicalconversations
Twitter:
https://twitter.com/classicalconv
Pinterest:
https://www.pinterest.com/classicalconv/
Google+:
https://plus.google.com/117616164250444350670/posts
Instagram: *not currently in use*
YouTube:
https://www.youtube.com/user/ClassicalConv