Ok, we all know that I am not a fan of teaching math and I seek online help for that. I will admit my other subject is higher level science. Unfortunately my boys have gotten to that point in their educational journeys. So I am grateful to share with you a product that we just got to review from Fascinating Education, their online Physics program.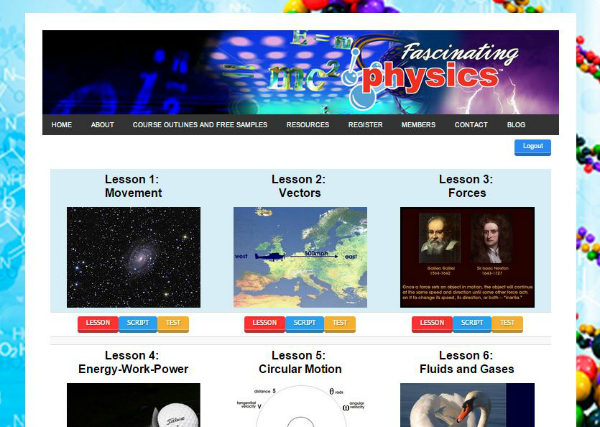 Fascinating Education
approaches science not from the textbook approach, but from a visual approach. Each easy to read slide is read to the child that makes learning easier for those right-brain kiddos (and adults). They are brightly illustrated to keep attention also. I cannot tell you how beneficial that is for Joey and Brayden. Even when their eyes cannot keep focused on the screen, they are still learning the material through the reading.
Each lesson has a printable "script" or reading that the parent can use to go along with the reading or you can print this also for your student to keep in a binder for future reference. There is also a printable test to go with each section. You can view sample lessons by visiting the Fascinating Education website here.
The boys are not fans of reading comprehension "activities", so I was very grateful to have one less thing for him to complain about, because they did not even realize that the frequent questions that they ask during each lesson is helping him further develop these skills. So it is really set up to make sure students who are struggling can succeed.
Unlike other science curriculums,
Fascinating Education
doesn't assume you have had previous P
hysics
(or Chemistry & Biology). It is set up as if the child knows nothing of these subjects.
Fascinating Education
takes them through a subject as slow or as fast as they need to go. If it is a topic that he can work through easily, he can move through it quickly. But if he is struggling, then we can move through it more slowly. This has come in handy since this Physics has been a challenge for them. This program has been created for the high school level. But it can easily be used by advanced middle school aged students. It can be used independently by students.
If your student enjoys experiments, they can simply re-create some of the illustrations to help reinforce the topics they are learning. I wish there was a few more laid out for parents to use. You could easily research and find some information online though.
We tried the Physics program, but Fascinating Education also offers courses in Chemistry and Biology. They recommend that you start your student in Chemistry, as this is the foundation of the cell. Then move to Biology and lastly Chemistry.
You can view course outlines for each topic by visiting the Fascinating Education Website, they list Chemistry, Biology and Physics.

Fascinating Education is an affordable option for families. It is $79.00 per course, and each course is created to last a full school year. But if your student moves faster and fast tracking through high school, they offer packages that discounts the classes if you sign up for either two subjects or all three at the same time.
Several members of the Schoolhouse Review Crew were given the opportunity to review the programs offered by Fascinating Education. Take some time to see how they used this program in their homes and what they thought of this method of teaching high school science.