We all want to give our kids the best education possible. With some that is homeschooling and with others that means other educational choices such as charter or public school. Everyone's choice is different, but depending on your family's choice for education,
The Critical Thinking Co.
has an option available for your family. We recently had the opportunity to review their book
Fun Time Phonics!
.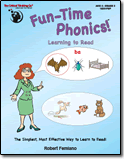 Fun Time Phonics!
(Print copy $39.95) was created for ages Preschool through 2nd grade. The easy to use format features a hundred different activities that use colorful pages to help to keep student's attention as you work your way through skills to reinforce those helpful reading and spelling skills.
Fun Time Phonics!
teaches that each word is made up of individual sounds and these sounds are written in letters that make up our words. Each reproducible activity helps to reinforce word sounds whether a child is listening for sounds in words or reading for meaning.
The Activities do resemble a worksheet format, and yet is more game style. As we have been working our way through each activity, I think Caty has been shocked how quickly each activity seems to fly by. Learning to read has been frustrating for Caty since she has some learning delays in this area. I try not to push, and lengthy reading activities really overwhelm her. But with
Fun Time Phonics!
it has not been uncommon for us to finish two activities because she enjoys the multiple choice style format given to her. She is able to learn without become frustrated trying to remember too much information. She is a visual learning and multiple choice definitely work better for her.
She also doesn't need to do a lot of writing. She can point at her answers as we work our way through the lessons. One day I even allowed Caty to use candy to cover her choices and if she was right she got to eat that piece.
Another aspect of using
Fun Time Phonics!
that has benefited us, the articulation practice. We have been using each lesson to help Caty with her speech delay. As we go through each lesson we work on proper pronunciation of each sound. In the beginning words are provided with each picture, and this sort of frustrated me because Caty was trying to use that to answer each question as quickly as she could. But I realized that I could use that in our favor to really break down the sounds and pronunciation. It has worked out really well to sneak in that extra help with the lessons and it also has really helped her in recognizing more words.
Fun Time Phonics!
includes lessons on short vowel sounds, matching consonant and vowels, and articulation consonants with vowel sounds together.
We have been using
Fun Time Phonics!
for a few weeks now along with our regular reading curriculum and I have noticed that the extra practice is helping Caty to grasp her vowel sounds more. We are only 1/3 of the way through the book, and I plan to continue using the activities with Caty. The easy to use format and the fact that she is getting extra "worksheet" practice without all the extra writing is a great plus in our lives.
I like that you can use
Fun Time Phonics!
no matter what school option or reading curriculum that you have chosen for your family. It's not labor intensive and really helps reinforce concepts with your child in a fun way.