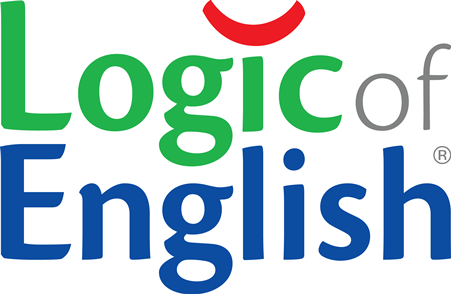 Vendor Name: Logic of English
Product:

Foundations Level

B ($80.00)
We recently had the opportunity to try out the Reading and Phonics Awareness program from Logic of English. Caty has begun to really grasp reading, but she is still struggling to remember blends. So I was excited to get a chance to try the next level. Foundations B is an extensive phonics awareness program that continues to help students learn proper letter formation for upper case letters, reading and comprehend simple phrases, spelling practice, and also teaches them many different letter blends that make up the English language. Foundations B is used with students in Kindergarten to 1st grade levels.
We received Foundations B Teacher's Manual ($38.00), Foundations B Student Manuscript Workbook ($15.00), Level B Readers ($12.00) and Phonogram Game Tiles ($15.00).
The
Foundations B Teacher's Manual
lays out the 48 lessons in a very easy style. Each day, you open up to the lesson that you will cover and gather the materials listed. I was able to keep everything together on the shelf to grab what we needed easily. Each lesson usually lasted for roughly 20 - 30 minutes depending on the activities that day.
Each lesson can easily be matched up with the workbook pages so that you can open up quickly to where you need to be. If you enjoy having your lessons planned out with little to no extra work, Foundations by Denise Eide is definitely the route that you would like to go. Foundations B contains 48 lessons. 40 are full lessons and there are 8 review lessons so that you can assess if your child has reached mastery on the sounds that were covered.
Each lesson includes sight word practice as well as spelling practice. Words are continued through lessons with carryover so that kids can master the sounds. Caty had some trouble with the Phonogram Tiles. They are made of a sturdy cardboard, but her fine motor grasp was a bit touchy. I was able to adapt this quickly by using our magnet wooden letters that she was able to grasp easily.
Some lessons we moved through very quickly, while others were repeated at least one extra time in order to reinforce the material. But I like that the spelling and sight word practice really does carry over to the next lesson. So kids are still practicing even if you decide to not repeat a lesson.
Caty is pretty no-nonsense when it comes to her reading lessons. She doesn't really enjoy a ton of extra "Fun" activities. But Foundations B does provide some great opportunities to make learning your letters and their sounds even more fun. The Foundations B student workbook contains many easy to use games, and the instructions are included in the Foundations B Teacher Manual. Some of these include Phonogram Boat Race, Phonogram baseball, Word Bingo, Phonogram Tight Rope, to name just a few. We didn't get to do any of these in their suggested form. Caty enjoyed just practicing spelling her daily sight words and spelling words. So I didn't force it.
The Foundations B Student workbook is a full-color book that is simple to read. There are not a ton of distractions on each page. I like that for Caty since she can feel overloaded very easily with too much busy work on a paper. She has been enjoying the short pages. Each small activity during the lesson takes us from the workbook to table work with her letters, and sometimes back again.
If you are starting the Logic of English Foundations Reading family on Level B, they do recommend that you purchase these reusable resources. They are a one-time purchase and used throughout your Foundations Journey.
Phonogram and Spelling Rule Quick Reference
(cursive or manuscript)
Rhythm of Handwriting Quick Reference Chart
(cursive or manuscript)
Rhythm of Handwriting Tactile Cards
(cursive or manuscript)
Phonogram Game Cards
Student Whiteboard
Basic Phonogram Flash Cards
Phonogram Game Tiles
Spelling Analysis Card
We have enjoyed our continued use of Foundations Level B. The simple, ease of use and the ability to adapt lessons to your child makes it a great investment for families. You can use this program with multiple children. You will need to purchase a workbook for each child, but you can use this either at the same time or with each of your children as they are learning to read. The initial investment is very little when you are able to stretch it over your children. I continue to recommend this program if you are searching for a phonics reading program for your children. We have used many through the years, and I have found Logic of English Foundations to be the easiest to use this far.
You can look at samples of all the Foundations levels by visiting the Logic of English website.
You can use the Foundations program along with the Logic of English Doodle Dragons app. You can read our review of Foundations A and the Doodle Dragon app by visiting this post.
Several members of the Schoolhouse Review Crew were given the opportunity to try out various Foundations Level and other reading programs from Logic of English. Take some time to read how they used it in their homes and if it worked for them.