Joey loves learning about the stars. He has had an interest for a couple years now. We were very excited to get a chance to learn more about the stars while reviewing
The Book of Astronomy
set from
Memoria Press
.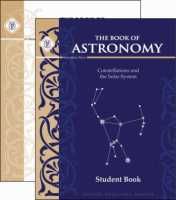 The Book of Astronomy
($31.90) was created for grades 3 - 5, but Joey is a little older than this and has been enjoying reading about the stars. **Note he is below grade level.** The material starts your student out learning about various constellations and the brightest stars in our skies. Students learn about stars that are brighter during certain seasons, and why certain constellations and stars can only be seen during other seasons.
In each section, repetition of previous material is included. This repetition helps students to retain the information being read. This building of each chapter has really helped Joey, who does have retention issues. When students have finished each section, the hidden reinforcement of writing the constellations and stars has allowed the student to remember and be able to share which stars are brightest or which stars are in each constellation.
The Book of Astronomy
provides information on stars I have never even heard of. So I have found it a very thorough study to date. After covering stars, the solar system is covered. Each planet is covered in detail, along with questions for review.
One of Joey's favorite activities is to be able to connect the dots and draw the constellations as he learns more about each star in them. This gives a visual reinforcement of what they can be looking for in the sky when they are out watching for these stars in the sky. Plus, what is more fun than connect-the-dot constellations.
The Teacher's Guide does not actually list a suggested schedule for the student to complete this material. So I easily was able to break down the sections into easy to finish daily assignments. The material is very easy to use and well-written and Joey has been able to use the Student workbook independently. The Teacher's Guide has really helped me on days when I do not have time to pre-read any of the material. I have the answers in front of me so that I can help Joey if he does have a question. I normally do not purchase Teacher Guides for much of the material that we use, but in this case, I would definitely want to have the Teacher Guide. I recommend that you do purchase the set that includes both the Teacher Guide and Student Book. It is worth the little extra money if you are a busy homeschool mom.
The Book of Astronomy
could easily be used right alongside your current science curriculum as you are studying the solar system. The detail about each star and constellation goes into the history of why each star was named. You could also use The Book of Astronomy alongside your study of Greek Mythology. Detail is also given about each God or animal that it was named after. You can also easily include extra art projects and hands-on experiments if you would like to add them with your study. The Book of Astronomy is a very easy to use and adaptable curriculum.
We are half-way through
The Book of Astronomy
from
Memoria Press
right now. Joey can't wait to finish his study of the stars and also the planets. This is definitely an item that we will be purchasing again, and I am thinking this would be a great gift item for those friends kids who have a love of stars but do not need another star poster. What a great way to encourage a love of the stars!