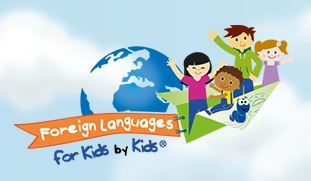 Teaching a foreign language is not always easy. It can present a challenge for not only the student, but also for the teacher who is working with the student. I haven't taken Spanish since high school, so I remember "un poco". Definitely not enough to fully teach the kids. We recently had the opportunity to review the
Beginning Spanish Starter Set 1
from
Foreign Languages for Kids by Kids
.
The
Beginning Spanish Starter Set 1
includes a full 20 week curriculum. This exciting program includes a DVD with the 3 videos that match up with the 3 workbooks for extra practice. This includes: Basketballs Aren't for Breakfast, The Little Magic House Part 1, and The Little Magic House Part II. A sticker set for each episode. Flashcards that include a picture and word for each video. Teacher's Guide to walk you through helping your child learn beginning Spanish. We also received a fun card game called Go Squish!
This program has been designed for use by elementary aged students just being introduced to Spanish. The DVD includes kids teaching kids. It's not just an adult "teaching". The kids are using the language to immerse your child fully during their watching period. The phrases are used repeatedly and in different situations to show your child appropriate usage.
Here is a sample from video #1:
The Teachers Guide is broken down into lessons for each video. Each video is a different level. There are 3 levels included in Beginning Spanish - Starter Set 1. The teacher guide is a great addition for parents. It lists out what you need to do and materials that you will need for each lesson. It also gives you an estimate of time for each lesson to help with your planning. A full list of the words being used in each video is provided.
You are not required to watch each video in it's entirety for each lesson. You watch each video in segments. Discuss the words that are introduced and practice saying them together. I really liked that the Teachers Guide reminds parents that you do not need to understand each and every phrase used in the video segment. You might be learning right along with your child. Learning a new language can become very frustrating for kids (and parents). So take your time learning and watch the videos for understanding.
Also included in the Teacher's Guide are short geography lessons. This is where your workbooks come in for each lesson. DVD 1, which is where we are, is a lot of geography of South America.
Beginning Spanish - Starter Set 1 also includes wonderful stickers that you can use around your house to label items. This provides a wonderful visual for your student to become immersed in a new language throughout their world.
The Workbooks are a full-color addition. The lessons included encourage children through fun crossword puzzles, multiple choice questions, and even their responses back in Spanish. All the materials are in Spanish.
Our experience so far has been positive. Caty is struggling to use the words, but she is recognizing them. She has a language delay, speaking Spanish is hard for her since she struggles to get out her English. So we did not emphasize speaking the language. But recognition was the key.
I thought
Foreign Languages for Kids By Kids
did a wonderful job putting together a child friendly Spanish Program. There seems to be a lot of components to put together, but there really are not. It has been very user friendly. The main items used are the Teacher's Guide, DVD, and Student Workbook. The flashcards and games are used also each week.
The amount of time spent on lessons is minimal. Some days was roughly 15 minutes, other days lessons were a bit longer, up to 30 minutes with games. You as the teacher can easily gauge your student's involvement level and attention span each day and can easily adapt the program to what your child needs.
Beginning Spanish - Starter Set 1
can easily be used by students who are also enrolled in public school. If you are seeking to have your child start learning a foreign language prior to middle school or high school, then this is the program for you to use. The lesson length will not heavily increase your student's workload. Many public school systems have started to adopt this program from Foreign Language For Kids By Kids. It is definitely a wonderful introduction to the world of the Spanish language, without cartoon characters.
The
Beginning Spanish - Starter set 1
can be purchased for $140.25. That can be a bit pricey for some budgets. But if you like what you see, you can also purchase the DVDs and workbooks by each level to break the cost up in your budget.
We will keep chugging along with our
Beginner Spanish - Starter Set 1
. I can't wait to see what other materials that Foreign Language For Kids By Kids releases.
Several members of the
Schoolhouse Review Crew
were given the opportunity to review the Beginning Spanish - Starter Set 1 from
Foreign Languages For Kids By Kids
. Take a few moments to read how they used this program in their homes and what worked for them.