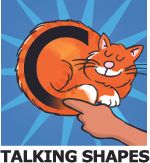 Talking Shapes: A Supplemental Curriculum for Early Literacy program is great for both emerging readers and struggling readers by combining both visual and fine motor skills. It was created for Grades preschool through kindergarten. Children are able to see how the letters and words they are hearing appear in print. They can interact by drawing the letters, putting together the words by sounds, have the new words read to them, and then read them on their own.
I really like that the letters are embedded within a picture of the sounds. This feature allows the child to easily associate the sound and the letter together. It also helps them to remember the shape of the letter when it comes to writing it. Check out the letter C above in the shape of a cat. Multiple learning styles are promoted in one activity, and it allows those who need to have further connections put together...connected.
First the child can listen to the fun stories read to them.
The next activity encourages proper letter formation. Multiple letters form words as they advance.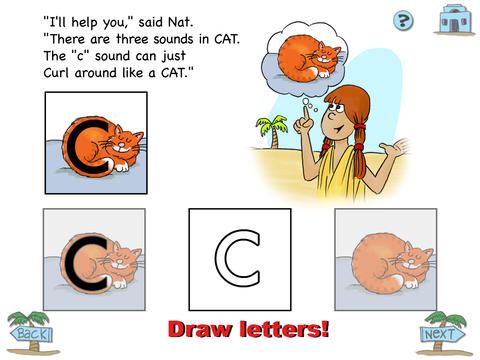 Spelling is another activity. This was fun. As you can see, letters can be dragged to the area to spell the words. The pictures of the letters, as you can see are designed to helped the children remember the shape/form of the letter and the sound.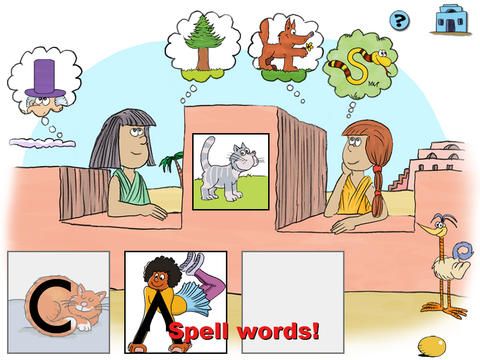 The last activity encourages the reading of the words that they have heard, drawn and spelled out.
I really like that the program reads the books to the child, which is great for early readers and those who may be struggling.
I like that I don't have to sit over her shoulder and can allow her to work independently with this program. So it's great for when I need to work with another child and yet keep Caty on track for her reading progress.
Another favorite feature is that if you child tries to open another window to play a game in while listening to story, they can't. Caty has a tendency to get distracted with multiple windows open. This program will not continue to play if it is not in the open window.
The lessons can be brief or as long as you would prefer. It has been working well along with our reading program that we are currently using.
Several members of the Schoolhouse Review Crew were given the opportunity to try out Talking
Shapes: A Supplemental Curriculum for Early Literacy
program. Still not sure if it's right for you? Take some time to visit the Schoolhouse Review Crew blog and see how the other families used it in their homes.