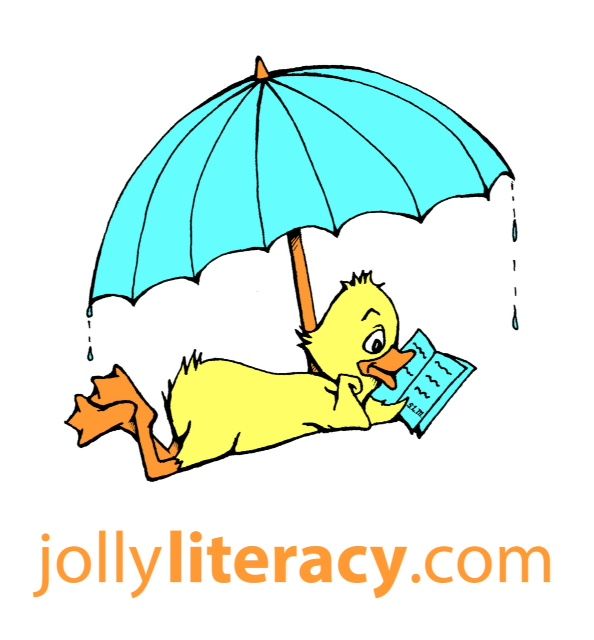 Phonics Curriculums can be a hard program to make a decision about. We recently had the opportunity to review the
Jolly Phonics and Jolly Grammar program
from
jollyliteracy.com
.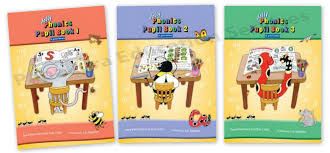 The Jolly Phonics program was written for children in early pre-k levels though 1st grade. You could even use it with children who are struggling in upper grades.
Jolly Phonics uses a systematic phonics approach to help your student. This multi-sensory approach helps students by giving them an action with each letter sound they are learning. Sounds are taught in a specific order, not alphabetically. This allows children to begin forming words early in the program. They can feel as if they are accomplishing reading much quicker, which allows them to build extra confidence.
Jolly Phonics uses a 5 step approach that works along with the Jolly Readers and Jolly Grammar program also offered by just2ducks LLC.
Jolly Phonics teaches these 5 skills:
1. Learning letter sounds
2. Learning letter formation
3. Blending - Mixing sounds together
4. Identifying the sounds in words
5. Tricky words.
These 5 steps build upon each other to help your student become a successful reader. The Jolly Phonics program contains several components that are designed to be used over a 3 year period with your student. The program includes:
Jolly Phonics Teacher's Guide
Jolly Phonics Student Book 1, 2, and 3
Jolly Grammar I Teacher's Guide
Jolly Grammar I Student Book
Jolly Songs in print letters
How did we enjoy the Jolly Phonics program?
Well Caty struggles a bit with remembering letter formation and sounds. Here is the kicker...she can read, but when it comes to writing the words for spelling or creating sentences, she cannot do it.
The workbooks are full color and even though they are made for younger students, are not cartoony. They contain letter writing practice to work on the letter formation that you are working on. There is a picture that they could color if they would like. There is also a picture of the action for that letter sound. Also included on the page is word practice for that letter sound and pictures questions to allow the student to Hear that sound in words.
Jolly Phonics
recommends that you introduce a new letter sound each day, but you know what your student can handle each day. Caty started at the end of Book 1, where letter combinations are introduced. She quickly has moved into book 2. We do follow the rule to do 1 combination a day. So far that has kept Caty from feeling overwhelmed.
Each lesson is only a page long in the Jolly Phonics book, so it's perfect for Caty's short attention span. The Teacher's Guide lays it right out for parents and makes it very easy for them, even if they have never had the opportunity to teach phonics before.
The Jolly Songs in Print Letters is a great addition as you are learning the letter sounds. Not only do you have the actions that students can do when working on the sounds, but they also have a song to go with many of the letter sounds also.
When your student has completed the Jolly Phonics program, you start up with Jolly Grammar. This program not only works on grammatical skills such as nouns, verbs, etc. But it also works on spelling also. All combined into one neat program.
The Jolly Grammar workbook is set up very similar to the Jolly Phonics workbook set up. The difference being the spelling. I really do like the layout of this spelling book. It gives students a visual list and mixes in the parts of speech work as you go. No separate program you need to worry about. All the practice is in one place. The pages also seem to be written for short attention spans like Caty. She is able to finish her work in an acceptable amount of time to her. That is a big deal for her.
We have been using this program 4 days a week now and with some review, Caty is remembering a few more of her letter combination sounds. So I have been impressed.
Here is a short video about this program:
The
Jolly Phonics and Jolly Grammar
have become a great supplement to our homeschool day. Caty has been showing more confidence in her reading abilities. This has been wonderful for her.
Check back tomorrow and see how we have been using another just2ducks LLC product,
Can do Cubes.
Several members of the Schoolhouse Review Crew were given the opportunity to try out the Jolly Phonics and Jolly Grammar programs from jollyliteracy.com. Take some time to see how they enjoyed these products by visiting the site link below.