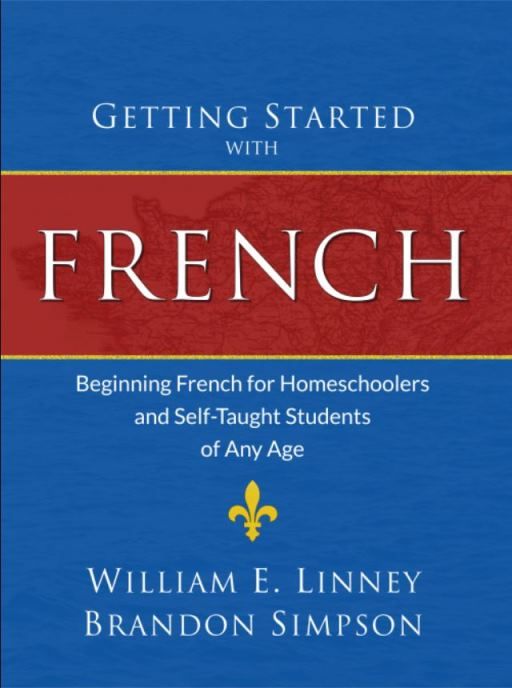 Teaching a foreign language that you are not familiar with can be very frustrating. We had the opportunity to try out
Getting Started with French from Armfield Academic Press
. It really put a new foreign language in our grasp.
Getting Started with French
was written to help students teach themselves at home. The author William E. Linney along with Brandon Simpson had many goals in mind. They wanted students to be able to work with or without a teacher. They wanted it to be self-contained, without a lot of extra materials to purchase. They wanted it affordable for families. There needed to be plenty of practice exercises so that students could master the concepts. And they wanted a place for the students to visit to be able to hear audio recordings. They truly succeeded with the program
Getting Started with French ($21.95)
.
Getting Started with French
was structured around the concept of mastering a concept before introducing the next concept.
Each lesson is written in a short/brief format. Some introduce a new word in bold print. While others help your child to learn grammar necessary to understand how to use French fluently. Pronunciation is such a big problem for many , so if you are not sure about a pronunciation, this information is provided as downloadable content. The words are read by someone who is a native speaker from France, and not just someone who has learned a second language. But each word has the pronunciation spelled out for easy reference.
Lessons can be done in as low as 15 minutes. So they are great for short attention spans. Some times you may need to repeat a lesson or review a lesson, before you start the next lesson. We found ourselves doing that a lot, since Caty has some memory issues. The length of each lesson though makes reviewing very easy to do.
Getting Started with French
can be used by any age. I have never learned French, so I was learning right along with Caty. She obviously could not do the program independently. But I could easily have set Lydia down and let her go through this program on her own, with minimal help.
I really love how simple this program is to use, and also how simple it is.
Getting Started with French
really shows that you do not need a program with hundreds of different pieces in order to successfully learn a new language. I was very grateful to not need to have a special box full of materials to store while using this program. With 4 kids homeschooling, extras get lost and sometimes are hard to find when you need them.
There are 172, very easy-to-use lessons in the Getting Started with French. Students are able to easily check their work with the Answer Key in the back of the book.
Getting Started with French
is definitely a program this is great to get started with, both in price and in ease of use. It has helped with my anxiety of helping her to learn a foreign language that I know nothing about. I was able to learn right alongside her.
William E. Linney has several other programs out, including
Getting Started with Spanish
,
Getting Started with Latin
, and soon Getting Started with Russian.
Several members of the Schoolhouse Review Crew were given the opportunity to try out
Getting Started with French
. Take some time to see how they used this program in their homes and how it worked for them. You can also follow the
Armfield Academic Press Facebook page
for tips and new items available.