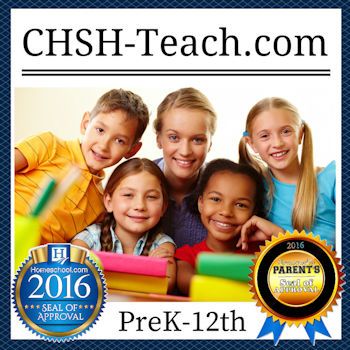 I don't usually follow a set curriculum. Some days we follow a close plan and everyone seems to be on track. Other days though we struggle to grasp concepts or I just want to add a little more to our lesson plans. We recently had the opportunity to review the CHSH Download Club from CHSH - Teach.com (Christian HomeschoolHub). What a great addition to our homeschool this has been!!
The CHSH Download Club is a resource that offers more than 50,000 pages of downloadable materials for grades Pre-K through 12th grade. All subject areas are covered, with choices in Languages, Art, Social Studies, Science, History, Geography, Bible, Health and Math. They also include homeschool organization tools.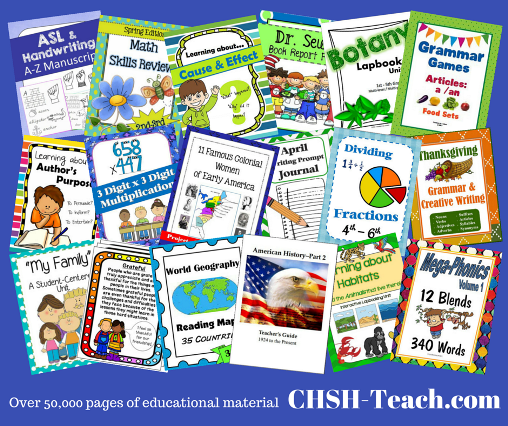 We started using the CHSH Download Club right away. Some weeks when I sit down to do lesson planning and get the kids folders packed for the week, I really struggle to find extra practice sheets. I belong to a couple sites, but the trouble is I need to keep track of the sites I belong to and many times they do not have the materials that I am looking to use. I spend so much time each week looking for materials. It's very annoying.
I have been able to find the materials that I am looking for almost every time while using the CHSH Download Club. There was only one time in the past six weeks. In fact, as I would be looking through the listing of materials, I generally end up adding to my lesson plans and finding great materials to use in the future. Materials included in the CHSH Download Club are worksheets, posters, lapbook materials, unit studies, and learning posters.
Even as I am typing up this review, I am still discovering materials that we can be using in our lessons. We have used materials in science, spelling, Bible, and American Sign Language. The download process is very easy to use. If you are not sure of materials you want, there is even a search bar to type in what you are looking for. But the available materials menu, I found to be laid out very well, and the materials very easy to find.
All the materials we have used could be used by both Christian and Secular families. Biblical materials are separate, and all materials we have used so far since not encourage any particular view. I thought this was wonderful, because even among Christian families there are differences in thinking and even Bible translations are different. But the Biblical materials that I browsed through could be used with any Bible translation.
The creator Lynda Ackert writes materials and unit studies that your can purchase on many different websites. With the CHSH Download Club membership, you have access to all her materials and even the news ones as she creates. The CHSH Download Club is very affordable. It's only $25.00 for a year, and $99 for a lifetime membership. I have paid that amount for a year on other websites, and found the materials to be too Common Core driven and also had a hard time finding what I was looking for. I have not come across any CC issues on any of the materials that we have used. This has been wonderful!
I cannot say enough good things about the CHSH Download Club. This tab has always been open on on my laptop since we got our membership. I use it not only for lesson planning, but also during the week if I notice the kids need just a little extra practice on what I have already planned. This past week, They needed a little extra help with fractions. I quickly checked the list on CHSH Download Club and found 200 pages of fraction sheets for various grade levels. Within a few minutes I had practice sheets printed to help the kids out. What a great addition!!!
If you are not sure about CHSH Download Club, you can easily check out the long list of options by visiting the site. Previews are even available. But I can definitely say that we will continue our subscription!
Several members of the Schoolhouse Review Crew were given the opportunity to try out CHSH Download Club from CHSH - Teach.com (Christian HomeschoolHub). Take some time to see how they used these materials in their homes and what they thought of them.