We recently had the opportunity to review the latest edition of
Exploring Creation with Astronomy, 2nd edition
from
Apologia Education Ministries
.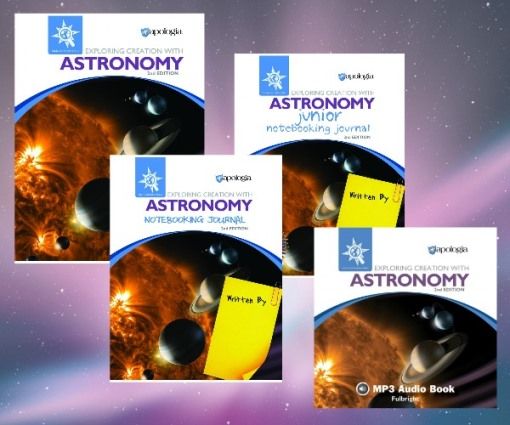 We received:
Using a Charlotte Mason methodology,
Exploring Creation with Astronomy. 2nd Edition
($39.00) introduces elementary level students to the beauty and wonders of our vast solar system and galaxies. Students will learn about the sun, planets, astroids, black holes, galaxies, and space exploration.
Illustrated with full-color presentation, the
Exploring Creation with Astronomy, 2nd Edition Student Textbook
is written in a user-friendly format. Students can easily sit and read their assignments independently. But you can also use the material for group studies. Scattered throughout the text are Biblical passages that help guide the student's to their own copy of the Bible so that they can marvel in all our Creator has done for us.
There are 14 lessons, that you could complete in that time frame or stretch out for a longer period. Inside each lesson you not only find well-written facts and illustrations, but also activity suggestions that allow you to bring space to life in the mind of your student. Some activities include building a solar system, a pinhole eclipse viewing box, and making lava. The activities do not require a bunch of extra materials, most are things you already have around the house.
Apologia Educational Ministries have created Notebooking Journals that go along with their textbooks. They have created these in two levels. There is a
Junior Notebooking Journal
($27.00), which was created for grades K - 3 and the Notebooking Journal ($27.00) that was created for grades 3rd - 6th. These spiral bound notebooks match chapter for chapter with the student textbook. They include extra activities, worksheets and notebooking activities to go with each chapter. Some of the activities include vocabulary crossword puzzles, scrapbooking pages, comprehension questions, copywork, and reflection pages.
The
Exploring Creation with Astronomy, 2nd Edition MP3 audio cd
is a great accompaniment for the Student Textbook. It opens options for education on the go. But it also can help a younger, struggling reader gain more confidence in their reading ability as they follow along in the textbook as Jeanne Fulbright reads the text.
I think my favorite item that we received was the Audio CD. I absolutely loved that we could listen to the textbook. Let's be honest, there are just some days that my throat is too dry for read-alouds. I try and make my way through them, but my voice is hoarse and then my throat starts aching. I feel miserable and then I know I get grouchy. With this MP3 Audio CD, we were able to listen to the lessons being read to us by Jeanne Fulbright. We followed along in the student textbook. If we listened while we were in the van, the kids would take turns passing the textbook around to see the pictures. I highly recommend this purchase, especially if you are teaching a group at various levels.
The Notebooking Journals are very nice. They are packed full of extra materials to reinforce the reading. Caty used the Junior Journal and Lydia used the Notebooking Journal for older students. They enjoyed the crossword puzzles. I saw a bit more memory retention with them using the notebooking journals. They normally do not enjoy lapbooking activities, but the lapbooking additions to their notebooking journals seemed to be different. I didn't hear the normal whining. I honestly did not think that the girls would enjoy using the notebooking journals during our review period, but they proved me wrong. The were also a great addition to our science.
We have used other Apologia Education Ministries Science curriculum, and I have enjoyed those items. They are well written and packed full of information for your students.
The Exploring Creation with Astronomy, 2nd Edition
was not a disappointment for me. The kids and I are both enjoying all that we have been learning about outer space. I really like that this science curriculum matches our Biblical beliefs and I do not have to skip over paragraphs full of information that goes against our beliefs.
I would definitely recommend using
Exploring Creation with Astronomy, 2nd Edition
from Apologia Education Ministries. Several members of Schoolhouse Review Crew were given the opportunity to try out this science program. Take some time to see how they used this product in their homes.