Sometimes geography can be very boring.

I try really hard to make this subject as fun as possible.

We had a chance to review a book from the By The Way Book Series called Ohio – Here We Come! ($14.99) by Joy Budensiek and Illustrated by Stephanie Robledo.

What fun this has added to our learning!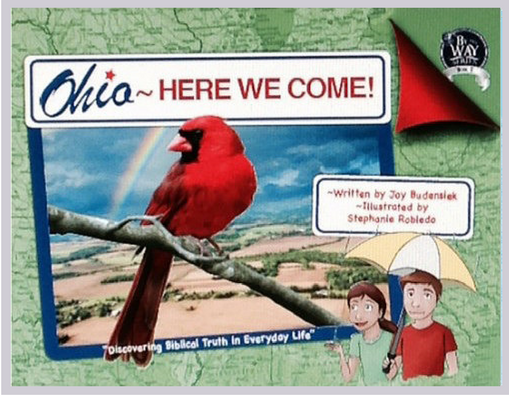 When we "visit" areas for our geography studies, I usually plan for each child to pack a suitcase full of items that we will learn about while we are there.

I serve themed meals.

I search for videos, even personal travel videos that people post on Youtube.

Just so that it feels like we are in the places we are learning about.

This can become very time consuming.

We have just finished our US Geography study, so I was planning our Ohio History study, since our daughter is close to the age where they take an Ohio History course if she was enrolled in public school.

This was lesson planning I wasn't looking forward too.
I was so happy with Ohio – Here We Come!.

It presented our state more beautiful than any other books I had checked out on Ohio.

This 50-page, hard-covered is full of beautiful colored photographs and fun illustrations.

We were introduced to Alex and Lori as they traveled across our state and learned about science, geography and history.
Scientific facts are included throughout the story.

We learned about animals and plants native to Ohio, what fish hatcheries were and even the importance of dandelions. Each page features reminders of all the beauty that God has provided mankind in his creation of the Earth.
We were familiarized with the Wright Brothers and famous astronauts Neil Armstrong and John Glen.

We saw sites from Cleveland and Cincinnati and read about the importance of the Ohio and Erie Canal.

There were new topics introduced on every page.
Ohio – Here We Come! also encourages families to try geocaching, something that is a favorite thing we enjoying doing.

Information is given on websites to visit to learn more and be safe.

What a great way to get a family up, moving and exploring together.
I am from Ohio and I learned many new facts, even though I did take an Ohio History course in school, and I read through Joey's Ohio History textbook that he used a few years ago.

Of course the basics are covered, including the state symbol, bird, tree, and flag.

Information about other famous Ohioans are included like Annie Oakley, Daniel Boone, Lucy Hayes (wife of President Rutherford B. Hayes), and the route of Johnny Appleseed.
All of this information is presented in a storybook format.

It is written for use with elementary aged students, but you can easily use this on multiple levels since you can expand upon the material with research projects and field trips of your own.
We have not covered the entire Ohio – Here WeCome! book yet since we keep expanding our knowledge of the topics as we move along.

This is one of my favorite parts as we read through.

I can expand out so easily on what is presented and turn this into a really fun study of Ohio.
I also appreciate how there are reminders all the way through the book that you can see God throughout your daily life and wherever you are…..even if you are on a family vacation.
I definitely recommend this non-conventional way of studying your way through Ohio and its history.

Ohio– Here We Come! by Joy Budensiek and published By The Way Book Series has become a favorite in our home.

I am going to start collecting the other states so that I'm ready for our next round of US Geography.
Several members of the Schoolhouse Review Crew were given the opportunity to review books from By The Way Book Series, including

Smoky Mountains ~ Here We Come!

. Take a few minutes to visit the blog and see how they used these books in their homes and what they thought of them.