We recently had the opportunity to review a series that helped show children how they can cling to God for direction in the time period we are living in. Values and morals have changed so much in the last couple of generations. But many still cling to those older values where men treated women with respect.
Manhood Journey & City On A Hill
has released a great series that allows fathers to help the next generation learn these ideals in their program
Manhood Journey Father's Starter Kit
.
The
Manhood Journey Father's Starter Kit
gives fathers a way to help encourage their sons into Manhood by using the Bible as their guide. It is meant to be used with boys ages 8 through 17.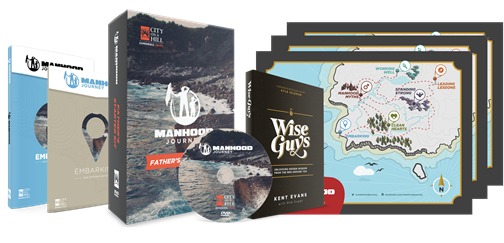 This easy to use set, includes a group discussion guide to lead a group, a 1 on 1 discussion guide for father's to use with their own children, a DVD that provides introductory videos for all six modules, and 10 Map Brochures that helps to guide your group on their journey. As I mentioned, this program allows you to use the Bible as your guide in the journey. But the program is written non-denominational, so you can use whichever version of the Bible that your family prefers.
The
Manhood Journey Father's Starter Kit
can be used independently between a father and son, or they could choose to include others in this journey and form a group study. They can set up weekly meetings to work on fun, hands-on interactive activities that are suggested in your course guide.
The group guide breaks all the activities down by week. It makes it very easy for anyone to use to guide a Manhood Journey meeting. The guide even breaks down a suggested time allowance for each part of a meeting. So even those who do not enjoy "planning" activities, really need to do very little extra other than show up. Questions for group discussions, and even one-on-one questions are provided. It also includes homework for each father/son pair.
Each topic refers back to the Bible for explanation. It helps fathers and sons to lay down a firm foundation with God in both their relationship, but also encouragement for their sons to see where they can turn to as they grow up. Because even as adults, we have all felt helpless at times. But if we keep our trust in God, then we do not need to feel this way. Other topics include the importance of prayer, how to build relationships, and even how men can serve others with a humble attitude.
The
Manhood Journey Father's Starter Kit
is meant to be used over a 6 week period. And it helps to teach young men how to trust in God, learn his word, pray, build relationships and serve others. It provides a wonderful example of what a traits a Christian man should be exhibiting.
Along with the group guide, the
Manhood Journey Father's Starter Kit
also includes a 1 on 1 guide that a father and son can also use together, if they choose to not conduct a study in a group setting. This resource provides fathers with more talking points to draw out their sons and also help them to look deeper at themselves. Are they exhibiting all aspects of the Manhood Journey in their lives? Self-examination is also encouraged to help fathers continue on their lifelong growing journey. The 1 on 1 guide is very important with extra points for the gentleman that is conducting the group sessions.
Included also is a free copy of Wise Guys by Kent Evans. This title gives men real-life examples to learn from and follow their lead in life. These men are more experienced in areas of life, than maybe you are. But instead of boring lectures, you can read examples of how to live life in a Christian way. There are even questions to ponder to really allow the men who read it to search their souls.
The
Manhood Journey Father's Starter Kit
is a wonderful resource. I really like the soul-searching that it encourages men to do. Even if a child, does not have his father in his life currently, this program can still be used with him with a trusted friend. Both father and son can be encouraged and see growth as they explore life choices using the Bible as their guide. What better foundation can we lay for any of our children than to teach them to build their lives on the Rock provided by God. That will allow them to have a firm foundation in this shaky world.
I read several of the passages with our boys. Joe has been traveling, so was unable to do regular studies during the review period. Each week's material was actually brief. Even if you hold group studies, meetings would be maybe an hour a week, plus some socializing. I was able to cover topics several times throughout the week.
The boys enjoyed the points being presented. They said they did not find it boring at all. They found it interesting that unlike the world we live in, they can see how the Bible can apply in all areas of their lives daily and not just when they pick and chose. They can really see that firm foundation that I was referring to.
The cost of the
Manhood Journey Father's Starter Kit
is only $29.99. That is a great deal for this program and all that it includes. I would highly recommend this product to families who are working hard to raise Christian children who love God. This short 6 week study can be expanded if you desire. Or completed in the suggested time frame. It packed full of reminders for the men and great examples for the children. It can also be used multiple times throughout your son's childhood.
Several members of the Homeschool Review Crew were given the opportunity to review
Manhood Journey Father's Starter Kit
from
Manhood Journey & City On A Hill
. Take some time to click the link below to see how they used this program in their homes, and how they enjoyed it.