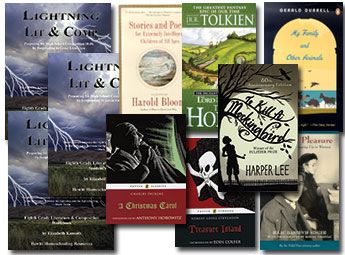 Gr 8 Lightning Lit Set takes classic literature titles such as Treasure Island, The Hobbit and even Charles Dickens and not only reinforces comprehension skills through the use of questions, but also incorporates the same literature into writing exercises.

Topics that involve poetry, setting, the narrator, recognizing conflict, and genre all are introduced throughout the 36-week curriculum.
Included in the package we received was the Lightning Lit & Comp Teacher's Guide, Student Guide, Student Workbook, and Stories & Poems for Intelligent Children.

You can purchase the Gr 8 Lightning Lit package that has all the books, as well as the chapter books needed to complete the program ($143.95).
The package was a little overwhelming to open since I have never taught this level yet.

It was new for us since the boys are delayed in areas such as literature and writing.

Just looking over the first few pages in the Teacher's Guide though had my confidence built back very quickly.

Everything is completely laid out for you in the How to Use Lightning Literature & Composition for Grade 8 section.
The Student's Guide lays out suggestions for your student to make the best progress that they can while using Gr 8 Lighting Lit.

It really serves to be like the "textbook" for this program.

This is where your student will read about discerning the Author's purpose for writing a story, or how to read the clues in a story, how to take notes, read the vocabulary list for their assigned reading, and even go through their comprehension questions.

At the beginning of each chapter in the Gr 8 Lightning Lit Student's Guide there is a reminder what pages each chapter corresponds with in the Teacher's Guide and also the Student workbook.
The Gr 8 Lightning Lit Workbook takes all the information from the Student's Guide and provides practice for your student.

They'll work on identifying Fact and Opinion, proofreading skills, analyzing settings, identifying bias, and how to re-write source material.

Not all the pages are just regular writing, there are fun word searches and crossword puzzles mixed throughout the pages.
Joey is our kiddo that used the Gr 8 Lightning Lit Set.

He is high school level, but delayed in comprehension and writing areas.

He really needs to finish up some literature courses for transcript.

So I was anxious to see how he would do with this series.

After looking at the suggested schedule in the front of the Teacher's Guide, I knew he would feel overwhelmed.

Since he has some time over the summer and he's working two days a week, I decided to take a slower pace with this program.

I have been splitting up the reading assignments and assigned workbook pages.

I have found a slower pace has worked out wonderful.
If you have a student who is special needs and struggling in areas of literature and comprehension, Gr 8 Lightning Lit Set has been great for us.

The breakdown in each chapter of the topics is well-written and easy to understand.

As we read through each topic, the examples of the material are directly in his assigned literature reading.

Instead of just reading a definition, he's seeing it used in action.

Then he can actually practice this type of writing through his assignment in his workbook.

I Love the fact that I can slow down and adapt to his comprehension level and keep him from feeling overwhelmed.
Even the practice writing assignments do not seem to be overwhelming for him to tackle.

The directions are clear and understandable.

The pages provided for him to complete his writing on (usually two pages of lines) help him see the end sooner.

So he's not as anxious to be working on writing assignments.

This is definitely a Joey issue, he's hates seeing pages of extra lines to write.

He really likes concise instructions and being told what to write about.

But there's just enough free-thinking thrown in that he doesn't always realize he's being
creative.
I am super happy with the Gr 8 Lightning Lit Set.

This is the first literature arts curriculum we have used from Hewitt Homeschooling.

I truly do not using literature arts series most times. The grammar is always worksheet style and the kids struggle. Face it, we are all bored to death doing it that way. I have really liked this series, and

I am already looking at getting the Gr 7 Lit Set for Lydia and the Gr 3 Lit Set for Caty to start this fall.

The ease of use has been wonderful for me.
You can purchase the Student Workbook, Student's Guide and Teacher's Guide separately, if you already have the required books. I am grateful for this, since on the other levels I'm looking at for the girls, we already own most of the books.
Several members of the Homeschool Review Crew were given the opportunity to try out the other Lightning Lit Grade levels. They also tried other wonderful products from Hewitt Homeschooling, including the High School literature levels that include history. Click the link below to get the chance to read how they used these products in their homes and what they thought of them.