We recently had a chance to review
English Grammar Teaching Method
from
English on a Roll
. What a great concept this has been to use!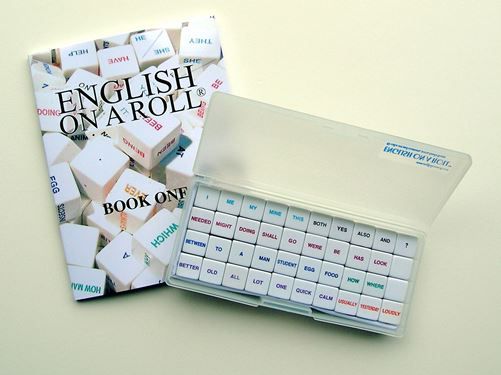 English Grammar Teaching Method
from
English on a Roll
is a new and innovative way to teach Grammar to students. It introduces fun to the boring subject of language arts and grammar. Originally created to help ESL students get a better grasp on the English language, this multi-sensory program can help students (and adults) that are struggling readers and writers to finally click with the grammatical concepts.
English Grammar Teaching Method
can be used with any student whether typical or special needs.
I had the opportunity to try this program out with the girls. It was very easy to setup in our lesson plans. The information is laid out in an easy to read format for the instructor. Since there is a a set of manipulative blocks necessary to complete the program, this information is even included in the daily plan. Instead of sitting out an entire box of small blocks that tempt children to play instead of learn, the lesson plan lists which blocks you need for each lesson. You only need to get out those blocks to complete the assignment.
Caty and Lydia both have an introduction to grammatical concepts. So I was curious to see if playing with a set of "dice" would help them or just be a hinderance as I would need to pick them up as they were thrown. This made me nervous. But we jumped in with both feed to work on the program.
I was pleasantly surprised that the girls didn't just start rolling the dice carelessly so we might always be crawling to find them. I was able to read the information or question/answer sections from the main book and BAM we were set.
Our experience has been positive so far. Caty is picking up parts of speech that she was struggling with in the past. So far they have tackled subject pronouns, consonant sounds and using a/an, who/what questions, and noun/pronoun relationships. I have included Lydia also as reinforcement. She has definitely loved using
English Grammar Teaching Method
instead of a bunch of boring workbook pages from her typical grammar book.
You are not left alone with
English Grammar Teaching Method
. The first pages of your book contain a fully laid directions to successfully use this 36 lesson book. This was great, since there has never been a subject that I have taught a subject like this before.
Our lessons start out with me giving them worksheets for the lesson. Each lesson has a guide for the teacher/instructor to follow. It tells me which dice to use for each lesson. So I don't just set the entire case of 40 cubes in front of the girls. I know that will be a huge distraction. Our grammar really takes no time at all. We are done in roughly 20 minutes, depending on the day. There have been a few times that they have loved the worksheets/work so much that we have continued with made up examples and work so they can keep going.
The dice are feature color coded words that match their part of speech. There are a couple extra blank dice included also, though we haven't gotten to the point of using those. You can add your own info as needed on these for certain lessons.
The case that the dice come in is very durably made. I love this!!! I hate getting a product that has a little weight and it's in a cardboard carry/storage case!! It takes just a few weeks of getting it off the shelf and daily use before the case if falling part and I'm stuck crawling around picking up the item from all over the floor or finding a new storage container.
English on a Roll
has provided a great case.
I consider
English Grammar Teaching Method
a great benefit for our family. I have seen great improvement in the girls work. That's a wonderful side benefit... multi-level teaching! You can use this program with any age, from early elementary when they are learning grammar through adults learning English as their second language.
The cost is $75.00 for a set with 1 Teacher Manual and a 40 cube block set
. This is enough for up to 6 students to use the cubes.
We plan on continuing with
English Grammar Teaching Method
. Linda Koran has found a way to make teaching grammar easy and make it fun!! I highly recommend checking this out for your family! They have a video demonstration available so that you can see how to use a lesson.
See how other members of the Homeschool Review Crew used English Grammar Teaching Method from
English on a Roll
in their homes. Visit the link below to learn more!