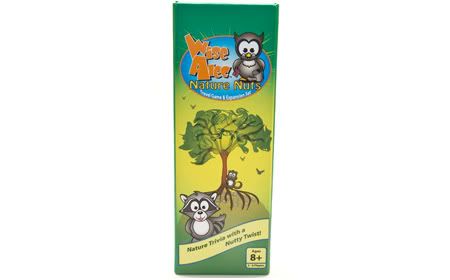 We were very excited to receive this package from
Griddly Games
.
Who says you need to have a game board to play a fun and educational game? And who says that you have to learn about nature from strictly reading books? And oh yeah....is learning supposed to be fun???? Don't tell anyone...SSSHHHHhhhh!!! This is a great way to learn about Nature!
Here's a little info about this game:
Ages 8+ 2 - 4 players educational, nature, trivia, exercise
Price: Approximately 17.99
Nature trivia with a nutty twist!
Hello Nature Nuts! Explore the marvels of nature with the trivia game based on the award-winning Wise Alec™ Family Trivia Game. There are 300 questions to test your knowledge of animals, plants, and the Earth. Two levels of questions on each card let everyone from the nature novice to the eco-expert play together. Plus, Wise Alec™ cards will have you doing tongue twisters, brain teasers, and fun exercises!
The cards from this game can also be used to expand your own set of Wise Alec™ Family Trivia Game.
Now for our experience:
Ok...no fair, you don't even understand those pictures. With our kids unique needs and age ranges, we opted to play in two teams. That allowed each adult to be on a team to "help" out in case of discouragement. So we got out our notebook and broke into Team Magma and the Bumbling Bugs.
Subject Categories are:
Plants

Earth

Animals

Wise Alec
We chose a subject by throwing the dice and then had fun asking the questions of each other.
At first Brayden and Lydia were discouraged, but that is because Lydia is only 6 and Brayden has never liked science. But we were easily able to ask the questions multiple choice for anyone struggling. Considering this was their first time.....we gave lots of wiggle room.
They all caught on quickly. Of course the favorites were the action Wise Alec cards. The pictures above were of them making their best fish faces.....that was Lydia and Brayden's teams task. But our team had to join in on the fun too. Joey is a sting ray at the aquarium he said....."We can see my face pressed on the glass."
They all had fun and asked to play it again. I heard a lot of, 'next time let's do this' comments. Some of the questions made mom and dad think too. We all really enjoyed the time we spent together playing this. And please NO ONE tell the kids that it was educational!!!!
The next time we played this I had thrown it in my purse on a trip to the doctor's office. I thought, well there's no game board and it can be a travel game, let's see what we can do. I didn't want to have to dig the dice out from under the exam table, so I let them pick their color and then asked the questions. It allowed the time to pass quickly while we were waiting. I think this is a great travel game, and I look forward to packing it for all our upcoming road trips to Michigan and Tennessee.
Pros:
Questions were easy to understand.

Instructions are written directly inside the box.

Wise Alec cards provide some action and movement during the game. It helps to get those sillies and wiggles out!

Really nice made box, with a magnetic closure. The product quality is very Excellent!

Content quality is also Excellent. It covers Life Science and Earth Science very well. (Joey was even able to answer questions without help, and he is at a 3rd grade science level).

Easily adaptable for school time to family time. Can be played with just two people or a group.

Price is also affordable and you can build larger trivia games by combining the other Wise Alec games together.

Small packaging allows for easy packing for use on a road trip or just in a suitcase.
I could really find no cons for this game.
Here's my suggestions:
If you use it while traveling, rubber band the cards together. The plastic case is barely deep enough for to hold the cards, so they move around in the box when shook. They don't fall out of the box itself, but you then need to spend a few minutes fixing them back into categories before you play.

Some of the Wise Alec cards were left open for guessing, meaning specific answers were not provided. We as the adults knew 5 reptiles and could tell what the kids were listing off were reptiles, but someone else may not understand and need a guide list of what the answer could be. (This is such a minor issue though, my hubby just said it was the one thing he wished they would list in case the kids were playing without us.)
In any case, our family really....really liked this game. It will definitely be part of our science curriculum and family time games.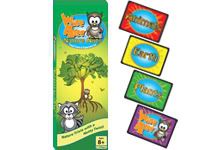 Visit Griddly Games on
Facebook
.
You can visit them on
YouTube
also!
Check out what other
TOS Crew members
think of the Griddly Games.
Now for the legal jargon....


****I received this game free from Griddly Games in exchange for an honest review of their product. I was not required to write a positive review. The opinions I have expressed are my own. I am disclosing this in accordance with the Federal Trade Commission's 16 CFR, Part 255 <
http://www.access.gpo.gov/nara/cfr/waisidx_03/16cfr255_03.html
> : "Guides Concerning the Use of Endorsements and Testimonials in Advertising."