Fire trucks are something that kids know about from a very young age. They know that they are red, and that they sometimes drive fast and have sirens and lights that flash. Fire trucks and firefighters are exciting!!! They are heroes!!! How many kids jump up and down and say they want to be firefighters when they grow up.
As kids grow, we need to empasize the importance of firefighters and fire safety. It is also important to emphasize the hard work that is involved in this line of work. Now I am not saying go and rent BackDraft and show your kids....oh no!!! But when we started getting ready for Fire Safety Month, we received the most wonderful DVD and book from Marshall Publishing!!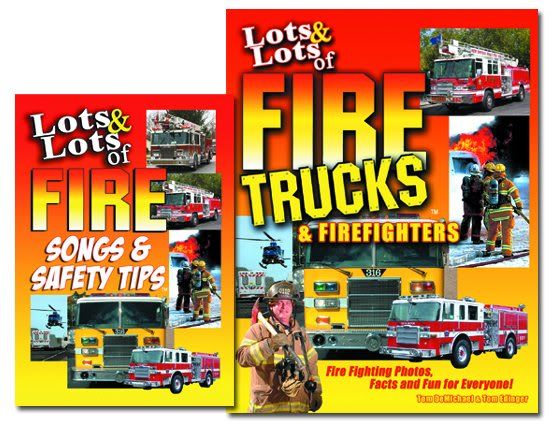 This DVD features short 12 minute segments to help teach the fundamentals of fire safety. This not only caters to short attention spans, but allows for an educator (or educator parent) to easily break up the DVD fun over several days or throughout the same day. We actually watched the whole DVD at one time, and then we watch some of their individual favorites with a few clicks from the main menu.
Award winning musician James Coffey performs musical segments including:
Lots and Lots of Fire Trucks
Call 911
Fireman Jim's Safety Tips
Stop, Drop and Roll
Your Home Safety Plan
It's an Emergency
Heroes Brave and Tall
Great Big Fire Trucks
Fire Trucks in Action
This DVD was a huge hit, even with the boys who are 9 and 11. I really thought they might think the songs a bit on the kiddy side. But all the kids have asked to watch it again and again. They enjoyed the songs and were able to answer questions about fire safety because the great music really made the information click for them.
We also enjoyed the book
Lots & Lots of Fire Trucks & Firefighters
. This 124 page book is packed full of pictures and information. Topics include Firefighter's Tools and Equipment, All Kinds of Rescue Vehicles, Fire Science Basics, Firehouse Traditions, History of Fire Trucks & Fire Fighting, Grestest Fires in History, Fire Prevention & Safety Tips, and much more.
We even tried one of the Firehouse Recipes for Cola Chicken....
Joey is pretty excited to try the sloppy joes soon and even the fruit cobbler recipe.
The book was an excellent tool to sit down with the boys and talk about timelines and the history of firefighting. This is beneficial for upper elementary and even early middle school ages. The pictures throughout the book was an excellent addition for the girls in discussing the equipment that firefighter's use and how we do not need to be scared of them if they are ever helping us. The girls really love looking at all the pictures in this book.

This is a set that I would highly recommend for families. We are already looking at adding some more from Marshall Publishing to our classroom. They have a wide selection of DVDs including trains, planes, monster trucks and even animal movies. Wonderful family entertainment.
And for all those reading this review....Marshall Publishing is offering a HUGE discount. Normally to purchase the above mentioned items, the cost would be $49.90, but you can purchase both items for $19.95 by entering the coupon code: TOSF1 at checkout. (Item #MPP-FTBD)
Product info:
Publisher-
Marshall Publishing
Age Range-Toddler through adults will enjoy this DVD/Book set.
Cost-
$19.95 for the DVD and $24.95 for book or $49.90 for the set.
Check them out on Facebook.....
Marshall Publishing
Check out what other Crew members thought of Marshall Publishing.....click
here
.
Now for the legal jargon:
*****I received this DVD and book from Marshall Publishing free of charge. I was not required to write a positive review. The views I have expressed are my own and are real experiences with my family. I am disclosing this is accordance with the Federal Trade Commission's 16 CFR, Part 255
http://www.access.gpo.gov/nara/cfr/waisidx_03/16cfr255_03.html>:"Guides
Concerning the Use of Endorsements and Testimonials in Advertising."