Our family loves board games and playing together almost every night of the week. I have been trying hard to include them during school time for a treat also. But trivia games can be a challenge for the kids, we have a wide range of skill levels and everyone always wants to play the same game.
Well, Wits & Wagers Family is one that allows a break from all those trivia games. You make guesses and estimates for the questions. Did I mention yet....what a great math game.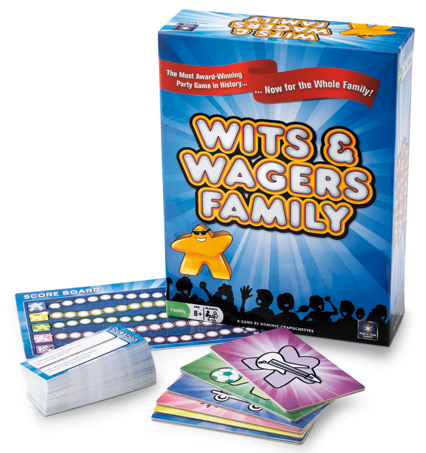 I played this with Joey and Lydia and they caught on quickly. Estimation is something that Joey has trouble with, so I was nervous and expected some frustration when we started playing. But I was amazed at how well they done. Lydia is still working on the concept of estimation, so she gave some pretty wild guesses. But they all really liked the game. Caty mostly liked drawing on the little whiteboards...lol.
This is definitely a school time game for us. The kids enjoyed it and repeatedly ask to play it. What a great way to make estimation fun and learn a few new facts along the way. Do you know how many doors the White House has? Or can you estimate how long Michael Phelps arm is? Well I gave it my best, but lost out on both questions (it was a good thing I put my votes on the kids guesses...otherwise I would've never gotten any points on those).
The Kuehner Krew definitely marked this has HIGH FAMILY TIME FUN!!!
From the
North Star Games
website:
The Most Award-Winning Party Game in History!
Not a trivia buff? It doesn't matter! Each p

layer writes a guess to a question such as "In what year did the bikini swimsuit makes its first appearance?" or "How many feet wide is an NFL football field?" and places it face-up on the betting mat. Feeling confident? Bet on your guess. Think someone else knows better? Bet on their guess. Strike it big and you'll be cheering like you just hit the jackpot!
Wits & Wagers is the most-award winning party game in history
Wits & Wagers has been featured in Real Simple, USA Weekend Magazine and on The Today Show and on Dave Ramsey
Wits & Wagers is most fun with seven teams at a large party or family gathering. Each of the seven teams should have one to three players.
North Star Games brings friends and families together with fun, innovative party and family games.
Product Info:
North Star Games
Game: Wits and Wagers Family Edition
Ages 8 and up
Price: $19.99
. Can be purchased at local retailers or
online
.
Creators
: Dominic Crapuchettes, Satish Pillalamarri, and Luke Warren
See what other
Crew mates
thought of this game.
*****I received this game from North Star Games free of charge. I was not required to write a positive review. The views I have expressed are my own and are real experiences with my family. I am disclosing this is accordance with the Federal Trade Commission's 16 CFR, Part 255
http://www.access.gpo.gov/nara/cfr/waisidx_03/16cfr255_03.html>:"Guides
Concerning the Use of Endorsements and Testimonials in Advertising."