Are you looking for a fun and creative way to encourage right attitudes and good behavior in your kids?

We Choose Virtues

is a great program to check out.
This faith-based program helps you to positively reinforce good behaviors in children ages preschool through elementary age (Ages 3-11). This is an on-going program that you use daily, not just curriculum that you use once and then move on. It's a continuing process, which is what we all need.
You start each day by introducing a virtue to look at. They include:
Attentive

Content

Diligent

Forgiving

Gentle

Helpful

Honest

Kind

Obedient

Patient

Perseverant

Self-Controlled
You start the program with the

Teacher's Handbook

. It gives you an explanation as to how to make this program work best for your students. It really emphasizes kindness and firmness in the teacher with their students since the more confidence that you show in being virtuous and the more kindness that you show in teaching the students, the more responsive they will be to the program.
This book also explains the best way to use each of the tools that are available. It give activity suggestions to open up the students minds and encourage active participation. It also gives suggestions how to correct wrong attitudes and actions that will inevitably occur.
This program has many helpful tools to help not only a classroom setting, but homeschool household also. In fact, the Teacher's Handbook has special notes for Homeschool families, since typical classroom suggestions may not work in a home setting.
The Kids of Virtueville Coloring Book

provides fun reminder activities and brings the characters to life to children. Our older kids did not enjoy the coloring books as much as the younger kids did.
You can also get these really neat pocket cards. The

Virtue Clue Cards

are a nice size for our over crowded house and walls. I really love the posters that they offer, but have no room for them. These virtue cards provide a challenge to remind kids what to do in hard situations, and I can hang up on a little spot on the wall that the kids can check and see what we are working on. These were great for appointments and travel because of their size. After all, anyone who homeschools knows that it is no longer "home" schooling....it's more like "van"schooling.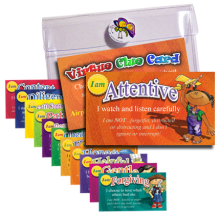 There are posters available, both large and mini-sized. And of course the 100 Days of Virtue Charts. This motivation chart helps to promote your children to be consistent about showing good character by allowing them to visually see their growth in each area.
We had the opportunity to use the

Virtue Clue Cards

,

The Teacher's Handbook

, The Kids of

Virtueville Coloring Book

, and the free downloads of

Family Character Assessment

and the

Kids Memory Verses, Bible Heroes & Truth

.
I see the benefit of the visual learning when it comes to our children. I do see the possibility of a child around 11 feeling that this program is too babyish, especially if they are past the point of cartoon characters. But our children like the characters. I like that this program gives you a basic structure and includes suggestions, yet still allows you to build lessons around what works best for your children.
Be sure to check them out on

Facebook

.
Here are the current specials being offered:
JANUARY/FEBRUARY-

The 100 Days of Virtue Poster and Stickers will be included FREE with any Homeschool Kit purchase during

these months

.
PROMO CODES:
These are the only active promo codes

.

Please make sure your

readers

know they can use only ONE at a time.
VIRTUE15 for 15 % off the shopping cart is still available

FAMILY for $3.00 off the Kids Virtue Poster

SHIPFREE for free worldwide shipping
Product information:
Cost--This varies for products. You can buy most selections individually, or buy them in the kits. Prices range from as low as $3.00 for the coloring book download to a few hundred dollars for classroom kits. Check out the

We Choose Virtues

website for all the options available.
Creator--

Heather McMillan
Check out what other

Crew Mates

thought of this program.

*****I received these products from We Choose Virtues
free of charge for the sole purpose of this review. I was not required to write a positive review. The views I have expressed are my own and are real experiences with my family. I am disclosing this is accordance with the Federal Trade Commission's 16 CFR, Part 255
http://www.access.gpo.gov/nara/cfr/waisidx_03/16cfr255_03.html>:"Guides
Concerning the Use of Endorsements and Testimonials in Advertising."