We usually have pretty strict rules about using the kids using the internet. The boys have discovered watching videos on YouTube....that freaked me out a bit. So we watched the best we could, and Joe added a rating system to keep them from hopefully having something bad pop up for them to see. But all of that is a huge pain and takes a while to do.
So when I got the opportunity to try this program, I was very excited.
Action Alert
includes everything that you need to create a safe environment on your computer for your family.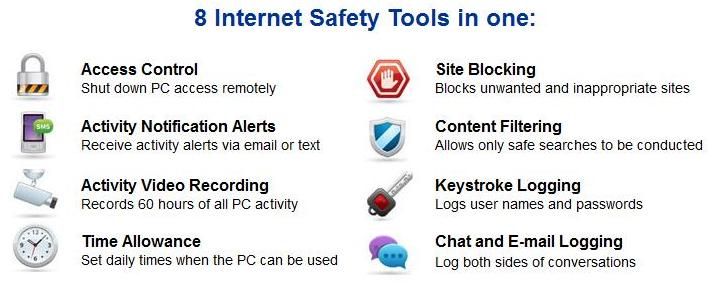 You can create a family-friendly computer environment by setting up web-site blocking and filtering. After you have set up this program, you will be contacted by email or receive alerts on your cell phone if there are any threats to the parameters that you have set up. You can actually suspend services on your computer from your phone.
I was shocked after installing this program, I received an alert just 15 minutes after I started surfing with it. I was not even trying to truly "test" the software, but some sort of issue with a regular website I was trying to visit. But because there was something suspicious it sent a warning. I really liked that feature!!!! It woke me up to what may be hiding, even though we are in the room with the kids the majority of the time they are on the computer. Of course, I did have to try typing in some keywords. And sure enough, I got warning emails that someone had done this.
This
software
took no time to install on our computer. It was up and running within a few minutes. Very easy to set up the account also. So it does not take a big effort to help protect your family from predators.
Choose which version is right for you:
Action Alert
Free Protection
Everything you need to setup a
kid-safe computer in seconds.
Totally Free
Action Alert
Maximum Protection
Multiple User Protection

Fully Customizable

Full Social Network Monitoring
Only $29.99
The Action Alert Maximum Protection Plan does come with a 30 day money back guarantee, just in case you are not satisfied. But if you are looking for a super easy software to help protect your family on the internet, you can't go wrong with
Action Alert

.
I do wish there was a platform for the boys iPads. I would love to have those mobile devices that the walk around the house with protected as well. But other than this small wish, I am happy with this product and give it two thumbs up.
Be sure to check them out on
Facebook
.

Check out what other
Crew Mates
thought of this product.
*****I received Action Alert
free of charge for the sole purpose of this review. I was not required to write a positive review. The views I have expressed are my own and are real experiences with my family. I am disclosing this is accordance with the Federal Trade Commission's 16 CFR, Part 255
http://www.access.gpo.gov/nara/cfr/waisidx_03/16cfr255_03.html>:"Guides
Concerning the Use of Endorsements and Testimonials in Advertising."