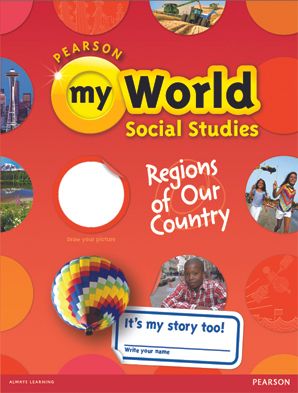 We are working our way trying to study more about our country. Each state has so much to offer, so I am trying to include geography, history and culture for each area we are learning about. This is a lot of prep work.
The geography part is easy, but including culture and history can be a bit more challenging. So I was excited to get to review Pearson Homeschool Social Studies. We received the Grade 4 myWorld Social Studies.
We received m
yWorld Social Studies Homeschool Bundle which included:
Student Worktext (well over 300 pages)

myStory video DVD

Teacher Resource Library DVD
There are 9 chapters in this consumable workbook. Each chapter is broken down into 4-5 individual lessons. The 9 chapters include:
Geography of the United States

Americans and their History

Government in the United States

The Nation's Economy

Regions:The Northwest

Regions:The Southeast

Regions:The Midwest

Regions:The Southwest

Regions:The West
Each lesson features full-color illustrations, vocabulary and review questions. The encouragement is that children will not only learn from the current lesson but use the information to build even more knowledge. The Review sections provide opportunities for working on Summarizing, cause/effect, fact/opinion, drawing conclusions, and essay skills. There is also an area to write down questions the student may have about material so that you can help them research or find the answer they are looking for.
myWorld Social Studies utilizes storytelling to bring Social Studies content to life. Our exclusive interactive digital solution makes Social Studies personal for every student in a way that's easier for you. With myWorld Social Studies, you can get to the heart of Social Studies in the time you have.
Connect Social Studies content with literacy instruction
Engage students and advance student achievement
Reduce teacher preparation time
We have been merging toward a Living History type of style for our history/social studies program. We have been using books and movies to learn about the history of the United States (along with visiting historical sites in our area). But I have to say that the ease of using this program has me wanting to continue using it. Joey isn't a fan of the essay questions, so I help him write down those. But the explanations provided in the reading allows him to draw conclusions and develop an excellent understanding of US Geography.

In fact, if you are teaching in a multi-level classroom, you could allow younger students to sit in on the reading and provide them with theme coloring sheets that go along with what you are studying.

We also received the myStory Video DVD-rom. It features videos that include interactive graphic novels that depict important people of the past and present and students giving tours of historical sites. The videos were able to keep Joey's attention. They were not cartoon style, but really did look like graphic novels that had come to life.

I didn't use the Teacher Resource Library as much. To be honest, not much extra work needed, just open the textbook. I did have a bit more trouble running this disk. But it does contain lesson plans, quizzes, and tests.

Will we continue using this program? Yes we will continue using it. I find the information wonderfully presented. The review questions provide excellent comprehension skills practice and the vocabulary word usage with highlighting really encourages vocabulary skills. I can adapt this to work for Joey, even with his need for a specialized learning approach.


Check out what other
Crew Mates
thought of Pearson Homeschool Materials.
Pearson Education Inc. a curriculum supplier to school districts across the nation, proudly presents Pearson Homeschool, created to help you develop a rich love of learning in your home.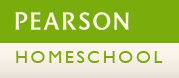 *****Disclaimer......I received Pearson My World Social Studies
free of charge for the sole purpose of this review through TOS Crew.. I was not required to write a positive review. The views I have expressed are my own and are real experiences with my family. I am disclosing this is accordance with the Federal Trade Commission's 16 CFR, Part 255
http://www.access.gpo.gov/nara/cfr/waisidx_03/16cfr255_03.html>:"Guides
Concerning the Use of Endorsements and Testimonials in Advertising."