As easy as it is for some, ideas do not always come to me right away. I struggle in some subjects with ways to help the kids either grasp a topic or make it more fun for them.
Hewitt Homeschooling My First Report Series has taken the extra work out of this struggle for me!!!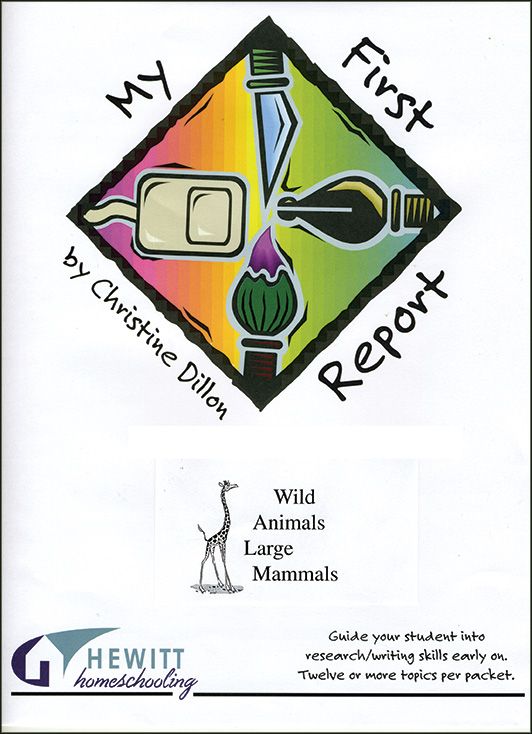 From the Hewitt Homeschooling site:
Instead of just filling in workbook short answers, introduce your children to expressing their knowledge in complete sentences of their own. Basic questions are given for directed investigation. Besides reporting skills, your children will automatically practice language, penmanship, and library/encyclopedia/dictionary skills. Students then create their own reports with or without a picture. Included is a set of reproducible report forms with varying line heights. Activity suggestions for each subject include art, music, language, reading, math, social studies/history, science/health, P.E., Bible, and field trips. A list of additional resources is included, as well as other information; e.g., the scientific classifications of the animal and/ or plant kingdoms in packets where these are studied.
Written with Grades 3 and 4 in mind; Grades 1 and 2 can do these with parental direction. Though the front cover may appear juvenile, these are perfect for remedial work for Grades 5 through 8.
We received this product nicely packaged in clearly marked white folders for easy storage. The packets that we had the opportunity to review were My First Reports Lewis and Clark Expedition Pack and My First Report Solar System pack. When I opened the packets, the reproducible forms are all ready to be put into a 3 ring binder.
The questions asked were very easy to find the answers too, whether using online research such as FactMonster.com or general book research. Joey was able to use his Kingfisher Science Encyclopedia also. The one he enjoyed the most, since he is the science fan, is the Solar system packet. I was easily able to incorporate this into my current science plans. It was very helpful to have all the work done for me. There are also vocabulary words given for each report.
These are made to work on one per week, but we did one every couple days, since I didn't plan on drawing our Solar System unit out for such a long period of time.
Each packet also includes a large amount of extra information for you to actually create you entire unit. Scriptures are included to incorporate for daily study. But you can easily leave these out if you are approaching your study from a more secular view.
They can be used for memorization, copywork or just to include a more biblical view in your curriculum. There are ideas on how to incorporate this science unit to include history,geography, social studies, language arts, reading, math, music, and art. You could really use just these packets to plan an entire curriculum around a specific topic. It could easily become your entire curriculum for about 8-9 weeks depending on how fast your child moves through it. Now we did not go that far, but there are some awesome ideas that I guess I did not think about when planning our solar system study. For one art project suggestion, they suggested turning a dark umbrella into a night sky. Or what about creating a sundial?
There is a large list of field trip ideas, and not just far off places that you may not be able to visit, such as the Kennedy Space Center or NASA Lyndon B. Johnson Space Center. There are even suggestions to turn your own yard into a field trip into space.
Included also is a 2 page list of book resources that you could easily find at a local library and also several places to email for more information or even write.....can we say....more Language Arts reinforcement....lol!!!
There is also a star map, copywork pages and even an extra word find for fun.
The Lewis and Clark Expedition packet was just as impressive to me. In fact, we stepped away from our normal History curriculum and trying using this and all the suggestions to create our Lewis and Clark exploration unit. The information included in these is wonderful. We are progressing a bit more slowly in history though, you can tell that Science is a highly favored subject for the kids.
This type of work was definitely do together work for Joey. He does not search the internet well for research reports. If he needs a video game code he is quite stealth.....but not if he needs important info.
So generally we set up with our pages, with me on my laptop and him beside of me at his desk on his desktop. We would both visit the same sites and I would guide him by looking at the questions and finding the appropriate key words to search. This helped him to really zone in on the use of search words and guide words.
Then we created a word document for each page of research. Since he gets frustrated easily with typing, it was another hands-on for me. But well worth it. When we first started, his sentences were not great. But as we continued through the pages and I kept reminding him about complete thoughts, he did progress well in making complete sentences.
We used the internet for research, library books and even some TV shows to make our way through the questions. Some were pretty common research questions about the planets, but others shed new information that I do not even remember learning about. Overall I was very impressed with the level of questions, and I thought they were very appropriate for the age level that this has been created for.
Would I purchase these....without a doubt yes!!! The list of available units is amazing. Hewitt Homeschooling hit this one on the mark, and this is definitely a great resource at a wonderful price for the homeschooling community.
Hewitt Homeschooling has a full range of products to choose from, Here is the list of My First Reports products:
My State
Eastern United States
Southern United States
Middle United States
Western United States
Birds
Bugs and Worms
Me
Marine Life
Music
Olympics
Outdoor Activities
Famous People
Pets and Farm Animals
Plants
Reptiles and Amphibians
Solar System
Sports
Transportation
Weather
Wild Animals: Large Mammals
Wild Animals: Small Mammals
Lewis & Clark Expedition
Focus on the World
And you can buy them in a full set also.
Each are only $8.95. You can purchase all of them or just the ones that you want. If you are interested in these materials, visit Hewitt Homeschooling for more information.
My First Reports Solar System.
Grade Level: 1-4
Author: Christine J. Dillon
Publisher: Hewitt Homeschooling Resources
Publish Date: 1998
Binding: Packaged in Envelope
Dimensions: 8 1/2 by 11 inches
Number of Pages: 60
Find out what other Crew Mates thought of Hewitt Homeschooling.
*****Disclaimer......I received My First Reports from Hewitt Homeschool
free of charge for the sole purpose of this review for TOS Homeschool Crew. I was not required to write a positive review. The views I have expressed are my own and are real experiences with my family. I am disclosing this is accordance with the Federal Trade Commission's 16 CFR, Part 255
http://www.access.gpo.gov/nara/cfr/waisidx_03/16cfr255_03.html>:"Guides
Concerning the Use of Endorsements and Testimonials in Advertising."