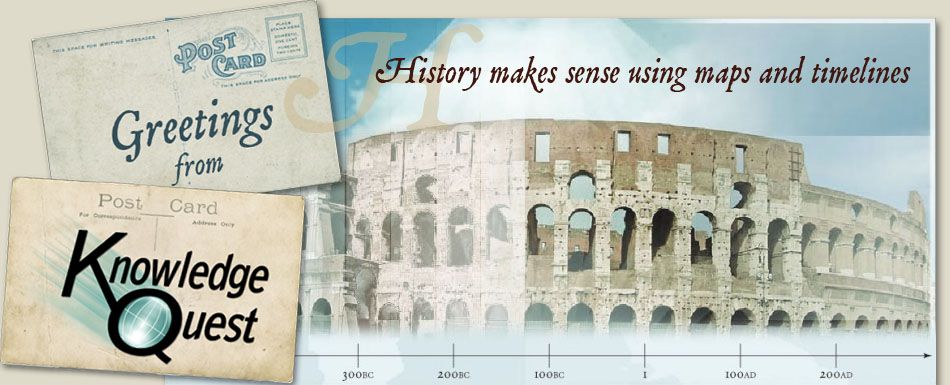 Timelines really do help children visualize a time period. I can say the year 1692 and 1776, but the kids really don't get the difference. Or so what, maybe that just happened yesterday. So we have been trying to do more time line work and also working more with maps. My fear though is that of "over-teaching". A common homeschool issue, where do you find the balance. There is so much information to teach our children, and never enough time to each it. I know I am not the only one that feels that way...lol.
Knowledge Quest
is really a one-stop curriculum when it comes to map work and even time line work. This has been a great addition to our homeschooling household. I have lost count how many times that I may have forgotten to print off a map or try to track down a map for the area we are studying in history. Of course, the kids are always wondering exactly where we are talking about. I also have this internal battle between history and geography. I feel like I am over teaching them and trying to cram down too much information if I try to teach both Geography and History in the same day.
So really Map Trek has taken that struggle away. I can teach geography right along with the history. The kids are developing skills for both subjects.
Map Trek
has lesson plans included for you. It is broken down into three different categories.
Level A - Children in Grades 1 -4

Level B - Students in Grades 5-8

Level C - High Schoolers (9th -12th grade)
These levels are made though so you can adjust to your student's needs. Maybe you have a younger student who loves a challenge, or an older student who needs a little help. You match the level up to your child's needs. The map work is fun and interactive. There could be just a few steps to fill in on each map, or several. That is up to you. I have done less with Lydia, but increased what the older boys need to be marking on their maps.
The kids loved to mark their maps as we have been studying early American History. Visually they were able to see the spots on the map that we had been reading about. The nice thing about Map Trek is even though there are lesson plans provided for you, you can use this program alongside many of the popular history curriculum that are used. We are using this alongside our TruthQuest History program. Map Trek has allowed me to make a few clicks and have all the maps I need for each area. No more hunting and searching for possible downloads online. Which means more time for me...lol.
There is enough material to provide your students with a weekly map lesson, right along side your current history.
There are even colored teacher's maps provided in the book as a guide for you to help your students progress. So no "over-teaching"!!!
The
Map Trek ebooks
are available individually or as a set of 6, for the low price of only $14.95 each or the group for only $47.00.
Here's a brief video about this wonderful company.
We are going to continue using the Map Trek Series along with our History program. It really helps me to know that I can cover so much CORE information, and no extra lessons need to be scheduled. Still not sure, why not check out what the other
Crew Mates
thought of
Map Trek
.
*****Disclaimer......I received Map Trek from Knowledge Quest
free of charge for the sole purpose of this review for TOS Homeschool Review Crew. I was not required to write a positive review. The views I have expressed are my own and are real experiences with my family. I am disclosing this is accordance with the Federal Trade Commission's 16 CFR, Part 255
http://www.access.gpo.gov/nara/cfr/waisidx_03/16cfr255_03.html>:"Guides
Concerning the Use of Endorsements and Testimonials in Advertising."