Joey really enjoys online, interactive educational opportunities. So we were really excited to get the opportunity to try out
Time 4 Writing
- Grammar Rocks. This program offers an 8 week online elementary through high school language arts course in areas such as:
Grammar
Paragraph Writing
Sentence Structure
Essay Writing
Basic Mechanics
SAT Essay Writing
Writing a research paper
Each student is assigned a personal certified teacher and can interact online at their own pace. Grammar is an area that I have been working on but not too hard on with Joey. He seemed to have a basic grasp, but it's not a subject that he particularly enjoys. So being a homeschool mom, I hide grammar work in his other subjects usually...lol.
When we first logged in, he was able to work at this own pace. We actually worked through this program very quickly. He seemed to get it right away!!! Each area could be worked on independently or we could do it together. He was experiencing some manicky behaviors, so I did work with him through most of this course. But it can be used for independent study as well.
A short informational video or audio clip could be played along with the text about each area. We covered basic grammar, such as nouns, verbs, linking/helping verbs, pronouns, subjects and predicates, etc. They were not hokey...and the explanations made sense to Joey. They even helped me a bit when we were working on identifying linking and helping verbs. .... sad....I know.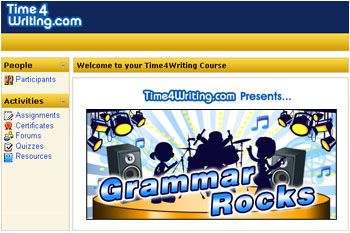 Graded assignments were hands-ons for us, because Joey is not the best typist yet. But they were not long assignments, it usually only took us about 15-20 minutes depending on Joey's mood to type up the assignments and submit them. Even the lesson videos/audio clips were short, and to the point. When it came time for a graded assignment, once it was submitted, we just waited to hear from his teacher.
We heard back usually within 24 hours of the assignments being submitted. Most times, it was under 12 hours. We would get the email that his teacher had posted in this forum. We would then login and read her comments and suggestions. If there were numerous errors made, she would ask him to correct the errors and re-submit the assignment. She praised him as well. She let him know how interesting his sentences were and how much she enjoyed reading them. The feedback made him feel good about the sentences he was creating. If you do need further help, the teacher is there to help.
Each section also had graded quizzes. They were automatically graded once submitted. If you scored poorly, you are given a total of two opportunities to correct the errors and try to bring up your grade on the quiz. I thought this was a great feature, because Joey tried to do a quiz independently and got a very low grade. He was able to try again and I could read the questions to him, which is normally what we must do. He scored almost a perfect score then....it's just part of his learning disabilities, we have to read the questions to him.
Time4Writing
offers a wide variety of courses for grades 2 - 12.
Time4Writing
can be used by homeschoolers, for summer school help, or as after school help or supplemental material for students that are looking for a challenge. Each course takes about 8 weeks to complete, and requires a 2 hour commitment by the student for schoolwork.
Elementary School
2 – 5

Middle School
6 – 8

High School
9 – 12

Basic Courses

Intermediate Courses

Advanced Courses
Each
8 - Week course is $99.00
. That allows your student to receive full instruction with online access to the writing mechanics, as well as access to a certified teacher to grade their assignments and guide them through the course and answer questions.
Time4Writing
is a very user friendly program and interface. The students can easily see where they are in the program and what they need to complete. The parent can have an email sent to them each time a student receives feedback from their instructor, so that they can keep tabs on what is going on and how the student is progressing. There are lots of
free resources
available to parents and students, including writing mechanics, run on sentences, etc.
Joey really enjoyed this program. I really enjoyed the program and the easy interface. I really had no work involved with this program other than sitting with Joey to see that he was completely his assignments correctly or help him type. And that is nothing, because it is what I need to do with almost every subject for him. All the material was presented in a very straightforward and easy to understand way. The videos did not seem hokey to Joey, but allowed him to listen to the material that he was trying to read and did not fully understand (another issue with his learning disabilities). At the end of his course, he received a printable certificate with his final grade showing his completion of the course. He thought that was really cool!
The only drawback that I found about this program is the price. $99.00 for an 8-week class for only one student, is way out of our budget. I really did enjoy the program, and his teacher was a wonderful support for him. I just don't think we will be able to do a lot of programs with Time4Writing, only because it is cost prohibitive for us.
Find out what other
Crew Mates
thought of the various
Time4Writing
programs, check out the Schoolhouse Review Crew blog.
*****Disclaimer......I received Time4Writing Grammar Rocks Course study
free of charge for the sole purpose of this review for Schoolhouse Review Crew. I was not required to write a positive review. The views I have expressed are my own and are real experiences with my family. I am disclosing this is accordance with the Federal Trade Commission's 16 CFR, Part 255
http://www.access.gpo.gov/nara/cfr/waisidx_03/16cfr255_03.html>:"Guides
Concerning the Use of Endorsements and Testimonials in Advertising."