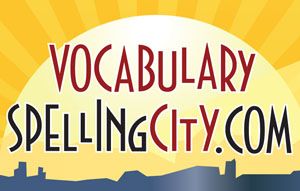 Vocabulary Spelling City
program offers a wide variety of games and fun ways to learn vocabulary and spelling words. It allows parents and teachers to customize their child's educational plan. Children of all ages and learning abilities can use their own personalized lists in a variety of learning activities that help to reinforce and correct spelling and word meaning through fun learning games.
This easy to use program provides so many opportunities for children to practice their vocabulary and spelling words.
Vocabulary Spelling City
makes the process of learning how to use their program so easy. They provide lots of
video instruction
to use it.
You can input a spelling list for a student. The student can then play spelling games or vocabulary games with the words on the list. The boys really liked doing their spelling list this way, and even though Brayden loves doing workbook work, he really enjoyed this program. I heard no gripes about doing their spelling tests each week. It was also great (I have to say this....) to being able to sit and watch the boys work independently with
Vocabulary Spelling City
.


Vocabulary Spelling City
offers two options for educators and parents. Most of their program is free, but you can purchase a premium membership for only $29.99 a year for up to 5 students. We were given a Premium Membership to try. The benefits of having a premium membership are:
Each boy had an individual login. I really liked the fact that I was able to save my spelling lists. I was able to input several weeks at a time, and then assign the boys their work. This has been a huge time saver for me when I am getting lessons ready at the start of each week.
Vocabulary Spelling City
turned just a spelling assignment into a vocabulary assignment. It also gives grammar help for each spelling list. The boys usually had a hard time trying to decide which game they were going to play, unless I specifically assigned them one.
Joey and Brayden were very easily able to use this program independently. I know I could just assign them to type their spelling tests each week, and it wouldn't cost me much. But too be honest, the boys are really enjoying the hands-on program. They take to some programs better than others, and this one they have both been enjoying.
We will continue to use
Vocabulary Spelling City
. I am enjoying all the benefits of having the Premium Membership, so I will be including this expense in our annual homeschooling curriculum list. Just the ease of planning is helping me out. And since I can have up to 5 kids on a paid membership, I am covered for many years.
In fact, when I asked Brayden's opinion of it, he panicked a bit and asked me to make sure we were going to continue using it. He thought we would have to stop because I was typing up the review. I let him know that it was a new way we were going to stick with to do our spelling and vocabulary. He said, "Good, I thought my account would stop working."
See what other
Crew Mates
thought of
Vocabulary Spelling City
.
*****Disclaimer......I received Vocabulary Spelling City
free of charge for the sole purpose of this review. I was not required to write a positive review. The views I have expressed are my own and are real experiences with my family. I am disclosing this is accordance with the Federal Trade Commission's 16 CFR, Part 255
http://www.access.gpo.gov/nara/cfr/waisidx_03/16cfr255_03.html>:"Guides
Concerning the Use of Endorsements and Testimonials in Advertising."