Have you ever read a book that you just have a hard time putting down? I can honestly say it's been a while since I have read a book that I just couldn't stop reading. I have come to realize that there are a large amount of good young adult titles that have been coming out. And due to the issues that we are struggling to overcome with Joey, I have come to the reality that we have to pre-read most of the books that he wants to read or we want him to read in order to double check for any type of inappropriate content. I have to say that this has taken away from of my love of reading. Of course, limited sleep and 4 kids limits that even more. I probably spend too much time on the computer too...lol.
So what happens when I get a book that I have a hard time putting down.....well some areas of life (like the dishes and meals) can get neglected...lol. And that is exactly what happened when I started reading
A Cry From Egypt by Hope Auer
.
There are times when everyone struggles with their faith. Maybe they are facing such hard times that they just do not feel like God is with them. Maybe they feel that God has forgotten them or just ignoring them at that time. When you are struggling in such a way, that is when you need to have the strongest faith. Due to our human imperfections, it's really hard to think that a God of Love could allow you to struggle in such ways.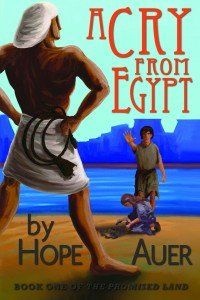 Most do not struggle with severe issues, but when a loved one is pulled from you suddenly in death or they are injured severely, it is human to need to find a cause or blame. In our imperfect weakness, it's easy to blame someone you cannot see. Someone that you feel was protecting you, and at those moments you are not feeling protected. This is an easy time for doubt to creep into our hearts and minds.
A Cry from Egypt
was written to show how God's power can make a huge impact on a family. Hope Auer wrote this fictional story with historical accuracy during the time of Ancient Egypt. It is written about the period before the Exodus, while the Israelites were still in slavery.
Young Jarah is an Israelite slave and being mistreated by the Egyptians. She feels frustrated at watching her family and friends suffer from mistreatment and beatings. She is caught between her mother and father in a mixed faith marriage. Does she choose Yahweh or does she choose the gods of the Egyptians?
It was a confusing time for her as she sees examples of Yahweh behind her people, but struggles because she is afraid of making the wrong choice. With all the turmoil going on around her, could it be Yahweh punishing the Egyptians for mistreating the Israelites? Or is it the failing Egyptian gods? Why were the Israelites being spared the pain, struggles, and plagues?
This story really helps anyone who is facing issues regarding their faith or doubts that they may be facing. This story was written for Ages 8 and up, and
A Cry from Egypt
Advanced Reader copies
are available for purchase with free shipping for only $12.50.
Joey is going through a "I don't like to read" phase. If there are too many words on the page, he feels like it is too much for him. So needless to say this title was a challenge. What saved the attention on this book was two things.....It was historically accurate about Ancient Egypt and I read this together with him. It helped him to see that no one is perfect in their faith to God. Since we are all imperfect, doubt and worry enter everyone's mind. So it's ok that it happens, but we also know how to correct it. So we do not have to feel bad.
The reading was so smooth. We had no issues with vocabulary. The harder words were very easy to decode by using the context of the sentences around the word. I could visualize the story as if I was watching it as a movie on TV.
This is a great title for young adults roughly ages 12 and up. We were always wondering what would happen to Jarah next (of course...we sort of knew from our Bible study....but we were not sure what would be happening to Jarah in her mind or how she would be feeling outside of the Biblical story.)
Is it a great read together? OH YEAH!!! Not only can you read this together as a family for bible study, but you can also use this for history class. A great way to help combine subjects or just spend some extra time reading with your kids. It's really a hard story to put down.
You are reading a child's point of view as she is forced in slavery to do work that our children would never be asked to tackle today. Jarah is punished severely for small mistakes, and how does that make her feel? This story opens up a very large area of discussion topics with your children, both historically and biblically.
I am very grateful to have had the opportunity to read this book, and I would recommend this title to anyone who enjoys Christian Historical Fiction. I cannot wait until the next book comes out in the series, we will definitely be getting it.
A little about the author:
Hope Auer is a recent homeschool graduate. She begun writing this book as a writing assignment at the age of 13. Her family was studying Ancient Egypt. She has been writing stories for years, and has led to the "The Promised Land Series." You can learn more about Hope by visiting her
Blog and Website
or visit her
Facebook
page.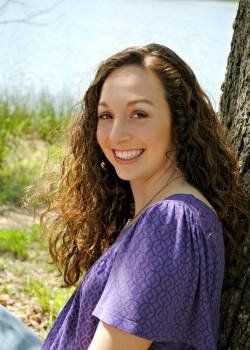 The cover illustrator is also a fellow homeschooler, also recently graduated. Mike Slaton done a wonderful job at making the Egyptian be as "scary" as he could without it being frightening to children. Those were Joey's words.
Hal and Melanie Young (authors of Raising Real Men)
did a wonderful job in choosing to publish Hope's stories and having Mike Slaton as the cover illustrator.....true homeschool success. They took their passion for learning and what they were learning at home and turned their talents in dreams.
If you would like to purchase an advance publishers copy, be sure to visit
A Cry From Egypt site
. You can get one today for
only $12.50
with free shipping right now!!
The Schoolhouse Review Crew had the privilege of reviewing this book as well as Children in Church: Nurturing Hearts of Worship, visit the
Schoolhouse Review Crew Blog
to see what other Crew Mates thought of these titles.

*****Disclaimer......I received A Cry from Egypt
free of charge for the sole purpose of this review. I was not required to write a positive review. The views I have expressed are my own and are real experiences with my family. I am disclosing this is accordance with the Federal Trade Commission's 16 CFR, Part 255
http://www.access.gpo.gov/nara/cfr/waisidx_03/16cfr255_03.html>:"Guides
Concerning the Use of Endorsements and Testimonials in Advertising."