For the past month, we have had the privilege of using God's Great Covenant - Old Testament 1 by Claire A. Larsen. Classical Academic Press generously provided us with the God's Great Covenant - Old Testament 1 Teachers Edition ($24.95), God's Great Covenant Old Testament 1 student workbook ($22.95) and the MP3 audio files ($9.95). I was very excited to see how they were going to make some difficult areas of the Bible easier for children to understand. We got started right away.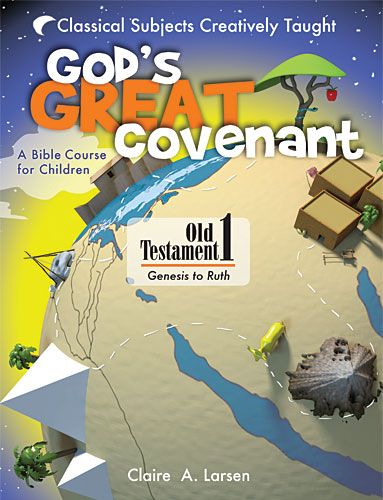 This wonderful course is not only reasonably priced, but I was very impressed at the set up. The audio files were a super edition for our family, as we were able to listen to the chapters during art projects and while we were traveling between activities. This opened up some great conversations between Lydia and I about important Biblical events.
Each unit is broken down into a Scripture Memory Verse, Key Facts for the chapters being read, Things to Remember that include special definitions, and a Who is God? section. After the reading section, there are review sheets to help draw out your child(ren) and have them think about the material they have read. A Chapter Quiz is also provided. There is even a suggested weekly schedule available if you are not sure how to go about studying this book with your student.
The Grade level suggestion is Grades 3 - 6, but easily can be used for younger grades since we were using it with our 1st grader also.
We found with our children, that listening to the audio reading of the weekly material multiple times during the week was best. I then used the workbook to ask them the suggested questions. None of our children are great at handwriting, so it was easier for me to keep a conversation going than to force them to write on the pages. I then wrote down their answers in the workbook so that I knew what they were understanding or needed further help with. Lydia has been the one predominately using the program, but Joey has listened to many lessons also.
We also had the Teacher's Edition to use along with our Student Workbook. In the Teacher's Edition, each chapter is broken down into extra talking points to highlight important material. Parents and/or teacher's are able to follow along in the Teacher's Edition as your student is reading the material, or as you are listening to the material being read on the MP3 audio file. There is a sample available to download to see how the book is set up for easy use.
There are 32 chapters, with the goal being to complete one per week. We have been moving a bit slower to help Joey grasp the material better. Combined with delightful maps and illustrations, children will truly follow along with God's people and see how he leads them and keeps his promises.
Unit I: In the Beginning -God's Power. God, the mighty Elohim, demonstrated His power by speaking creation into existence. He barred sinful man from the garden and judged the wicked world with a catastrophic flood. At the same time the power of His mercy and His redemptive plan secured man's future existence.
Unit II: By the Patriarchs - God's Promises. The Lord God plucked Abram out of the city of Ur and sent him on a journey. Through the covenant the Lord gave Abram (later called Abraham) three promises: to give him a land, to make him the father of many nations, and to bless the world through him. These promises, and God's faithfulness to keep them, form the foundation for the rest of God's story.
Unit III: Out of Egypt - God's Redemption. In God's mind, rescuing Israel from Egypt was more than saving the Israelites from slavery. The Lord God was redeeming Israel from sin and renewing the covenant He had made with Abraham. Despite their sin the Lord desired to dwell with His people and bless them.
Unit IV: Through the Wilderness - God's Provision. In the harshness of the Sinai wilderness the Lord God showed His people that His care for them was perfect. Even though they grumbled, complained, and refused to trust Him, God was completely trustworthy.
Unit V: In the Promised Land - God's Faithfulness
. After the glorious conquest of Canaan, Israel entered into the dark years when everyone did "what was right in his own eyes." Even though Israel repeatedly turned from the Lord, He always heard their cries for mercy and delivered them from the oppression of their enemies.
My favorite part of this program is the fact that God's actual name is included!! How many people actually know that God's name is Jehovah? Not too many, and I like the fact that this is included in the lessons.
Another thing that I am enjoying is the ability to add your own materials and projects to go along with this program. Such as when we were learning about the Days of Creation:
Lydia really liked this visual project (since she doesn't read well yet) to remind her what happened on each day.
Will we continue using this in our home? Yes, I am enjoying the extra study for the children and they are enjoying it also.

*****Disclaimer......I received God's Great Covenant
free of charge for the sole purpose of this review. I was not required to write a positive review. The views I have expressed are my own and are real experiences with my family. I am disclosing this is accordance with the Federal Trade Commission's 16 CFR, Part 255
http://www.access.gpo.gov/nara/cfr/waisidx_03/16cfr255_03.html>:"Guides
Concerning the Use of Endorsements and Testimonials in Advertising."