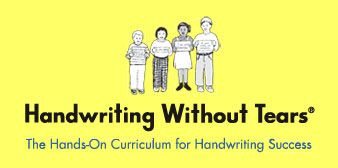 Handwriting is such a hard thing for many children. As a child, I remember sitting and copying...and copying....and copying some more. The teacher would draw red lines to show my mistakes. After elementary school though, as long as a teacher could read it they didn't care how high my t's were or if my s made it to the top of the line. Made me wonder why I had to sit and copy so much!
In our situation, we have two boys that are on the autism spectrum and handwriting is difficult for them. Lydia is also struggling there, along with Caty. My problem is keeping handwriting from being completely boring.
Handwriting Without Tears has created a new application that allows children to practice their letter formation and get instant feedback (and not a red pen mark across a paper). Wet-Dry-Try app by Handwriting Without Tears is a K-1st grade app that is based on their slate chalkboard used in the regular writing program. It is available for both iPad and Android devices.
They all love their iPads, so I was really excited to get a chance to try out the Handwriting Without Tears Wet-Dry-Try app. I mean here is a way to use their iPads for more than a $400.00 television and video game system!!!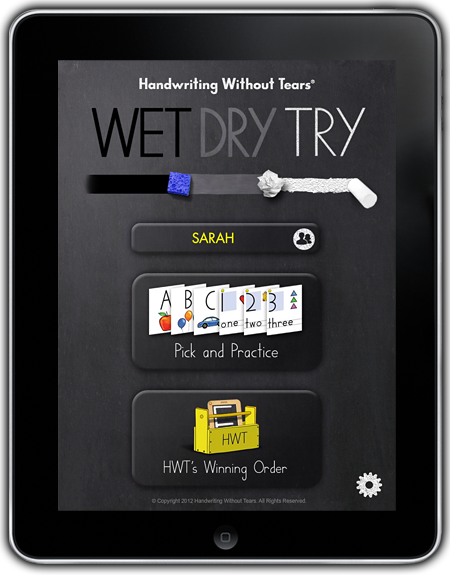 When Lydia first started using it though, she was getting a bit frustrated. Then I realized her frustration was because of improper letter formation. It wasn't giving her the star if she made too many mistakes. This caused her to really slow down and pay attention to what she needed to be doing. Whoohooo!!! Score for this app!!!
This program is broke down into sections. You can pick and choose what letters you want to concentrate on....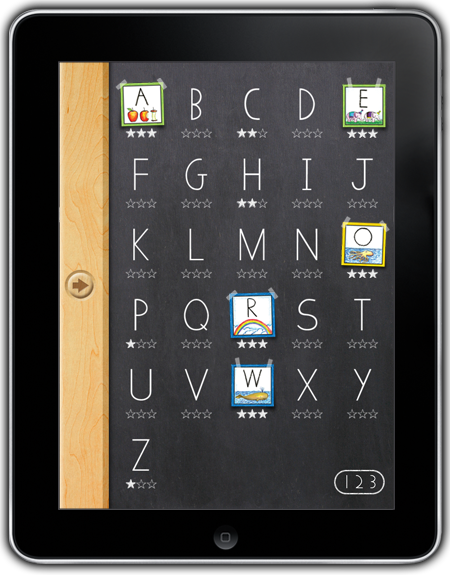 Or you can follow a program set up already by Handwriting Without Tears and called HWT's Winning Order.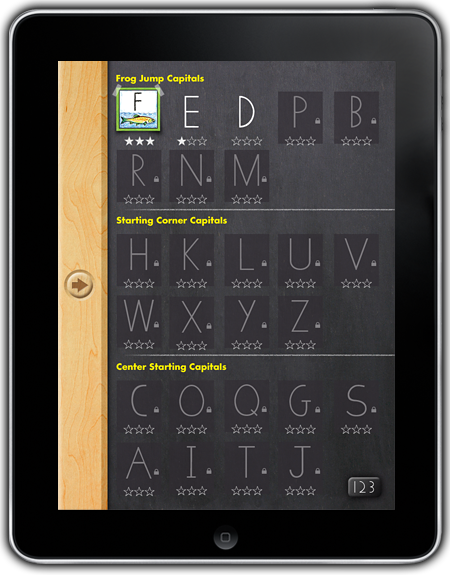 As a child completes the "writing" correctly, they earn a star and upon earning three stars they have mastered that letter.
This program is made to reinforce capitalization and number formation. It really does help to reinforce good habits.
Lydia has loved this program, and Caty has started using it also. I catch them "playing" this app, without being told! Lydia will be on the couch and let out a huge sigh and I will ask what is wrong. And her response is, "I am trying to get a star and I did it wrong!! I have to try again." Caty even is practicing and squeals when she earns a star!
I love "portable" school programs like this. They can use it anywhere, even in the van. And what is best about that....no ink on my van seats! Yet they are practicing their handwriting.
We are going to continue using this application, and I hope they are working on a program for cursive. Because that is what 2 of the 4 are working on now, and a 3rd one wants to start soon. It is well worth the cost to help boost your child's confidence in their handwriting.
You can visit the Handwriting Without Tears Wet-Dry-Try application page to view additional screenshots and watch a video on how it works.
You can purchase this program visiting the iTunes store. iPad application price is $4.99.
If you own an Android Device, visit the Google Play store. Android version is also $4.99.
The Schoolhouse Review Crew had the privilege to review several of the printed products from Handwriting Without Tears also. Be sure to check out the Crew blog and see how they were able to use the printed products and applications in their homes.

*****Disclaimer......I received Handwriting without Tears Wet/Dry/Try App
free of charge for the sole purpose of this review. I was not required to write a positive review. The views I have expressed are my own and are real experiences with my family. I am disclosing this is accordance with the Federal Trade Commission's 16 CFR, Part 255
http://www.access.gpo.gov/nara/cfr/waisidx_03/16cfr255_03.html>:"Guides
Concerning the Use of Endorsements and Testimonials in Advertising."