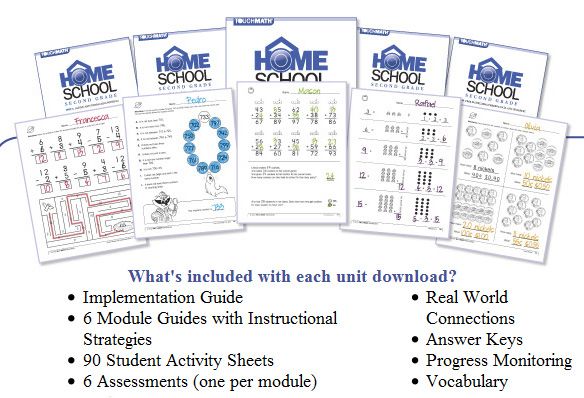 Math is a strong subject for some in our house, and a weak one for others. I actually thought we had a pretty sound math program, but for some reason Lydia just wasn't connecting with it anymore. So I have been shopping around for a hands-on curriculum for her to work with. I was so excited to get an opportunity to try out Touch Math Homeschool Program.
Touch Math is a multi-sensory approach to learning math. The program is made to help young students grasp the basics of math functions so that they have a strong foundation for future math concepts. Touch Math offers homeschool programs for Preschool through 2nd grade. They also offer upper grade material in multiplication, division, time and money.
This program can be used at grade level or as a supplement to help struggling students to catch up to grade level. The whole approach gives visual points on each number for the child to see, which enables them to easily add and subtract.
Once the child knows these patterns, and Touch Math does have pattern cards that students can use to help them remember these patterns, they are ready to move on:
We had the privilege of using Touch Math Grade 2. Lydia is actually in 1st grade, but is ahead of the game in math. This program really helped her with her math fact memorization. She started out in Unit A, module 1. It took her a few days to get used to the Touch Points on the numbers, she was using her fingers or trying to do a number line.
Touch Math Grade 2 ($199.95 if purchase all for Units together or $59.95 each for Units A, B, C, and D) was extremely easy to download. I printed what materials I chose. At this point, I printed both the instructions for myself as well as her worksheets for each lesson. I then bound them together with my binding machine. But I could have also brought them to the local office supply store and at minimal cost had the same spiral bound put on.
We were very fortunate to have been given posters to help give a visual reminder. The TouchPoint Posters ($43.00) were a great addition for us. I actually took them to the local office supply store and had them laminated.
After I hung them up, she really enjoyed doing her math at the kitchen table. She could easily use these posters. But while we were traveling around and doing schoolwork on the go. We found that the Touch Math Student Number cards ($24.00) were great to put into her math booklet
or even the Desktop Touch Lines ($19.00) could be cut down and used as bookmarks. They took up very little space also while we were traveling.
and suggestions to make it easier for students (and parents) to understand. It really encourages multi-sensory teaching by showing parents how to use both the Touch Points, but also manipulatives that you already have lying around the house.
I do not have a lot of prep time. I generally read the suggestions and use their guide to help her understand. So far this has been a perfect set up for her! And for me, since I don't have to worry about a lot of reading ahead of time in order to teach this subject.
This is the first lesson in Module 1...Addition to 13. There is not an overwhelming amount of problems on each page. But there is enough to allow the student to feel a sense of accomplishment.
These were a lot of fun to get out and make her math a lot more fun. Even Caty liked to get in on the action of trying to add and subtract with small numbers. They are durably made out of thicker foam and easily store in their box on the shelf.
L
ydia also has been enjoying this wonderful math software program. She actually begs to get to play this when her schoolwork is done. Finally a "game" that has educ
ational value that has drawn her away from Minecraft and her American Girl iPad apps!!!!
TouchMath Tutor Soft Second Grade
($99.00) helps to bring a visual and fun way to enhance those skills being taught in the "textbook". This program has done wonders for Lydia's confidence. She squeals and is so excited when she gets to that next level on the map. I would definitely recommend this program to use along with the core curriculum or even as a stand alone extra practice program.
We also had the opportunity to sample the Skip Counting Poster and CD Set ($79.00). Lydia has enjoyed the music and these posters are so bright and colorful. I also took these to the local office supply store and had them laminated so that they were more durable. Lydia already knew by 2s, but these as a visual aid really helped her to grasp and practice. The music also made it more fun.
We also had the opportunity to use the TouchMath Math Fans ($239.00). These were very unique and a completely new type of concept for me to teach. They have been very helpful in giving her, as well as her brother, a visual about place value.
The possibilities for the use of the Math Fans are endless. They can be used for counting, number order, greater than/less than, addition and subtraction.
We have been fully submersed in the Touch Math Program now for several weeks. I have seen a great improvement in Lydia's attitude with Math. She still gets frustrated, but is learning how to solve the problems. Touch Math is making a huge difference in her continued success in Math. She is learning so much, and we are not being tied down for large amounts of time.
I have been very happy at how long our math lessons actually are. Typically we are done in roughly 20 minutes depending on how many times we practice our flash cards. That is a HUGE difference from the 45 minutes we would spend with our previous program. And even though our lessons are not as long, she is still learning and continuing to progress very rapidly!!!
In my opinion we have found a program that even Caty is using. It is going to be a bit pricey for us to swing, but we are sticking with this program, and will continue with Lydia. In fact, I am thinking that with all of Joey's struggles in math it might be a good idea to introduce him to this program to help him. Touch Math was really designed to help children with special needs to grasp the hard to see math concepts.
You can download the Touch Math Scope and Sequence Skills list so that you can see what each level entails.
Most of the items that I have listed are really optional for your use with the program. You do not need to have all the items listed. I will say if you can swing the
Touch Numerals with Base 10
,
Second Grade Flip Cards
and the
TouchMath Tutor Soft Second Grade
....these were the favorites!! They also really liked having the
Touch Math Student Number cards
and
Desktop Touch Lines
. In fact, the Student number cards or Desktop Touch Lines are really an essential part of the program. Make sure to get one of those sets.
Several other members of the SchoolHouse Review Crew were also privileged to try Touch Math in their homes. Please take some time to check out what has worked for them by visiting the SchoolHouse Review Crew Blog.