Essentials in Writing has a full curriculum ranging from 1st grade through high school. The approach of Essentials in Writing is to "encourage students to be confident writers in personal writing and in public." In our world of advancing technology, more and more correspondence is being done through "written" word and not just verbally. The use of social media and instant message contact during game play or even in business, really makes the use of a writing skills curriculum essential.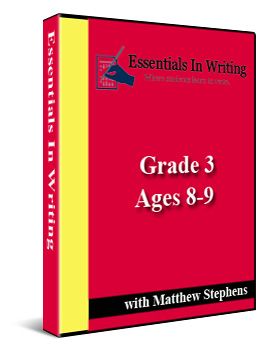 Both my boys are delayed in the area of Language Art. My goal with the boys is to be able to have them write complete sentences...lol. To be very honest, it was been a challenge for the boys to get sentences on paper. They can speak in full sentences. But when it comes time for their brain to connect to their pencils, forget it. So we have been working on just typing up thoughts and feelings for their blogs. That has not been working so well.
I was very excited to get the opportunity to try out Essentials in Writing - Grade 3 ($40.00). This DVD and PDF workbook combo has been wonderful for the boys. Joey has been grasping more information about topics since he can watch a lecture, from someone other than mom. He also isn't just trying to read about topics and do a worksheet. He learns better by watching and then working on review questions.
Some of the topics covered by the Essentials in Writing Grade 3 curriculum include:
Review sentences types and making complete sentences
Capitalization rules: beginning of sentences, names, city/state
Punctuation rules: period, question mark, & exclamation point, and commas in items in sequence
Grammar: subject/predicate (both complete and simple), nouns, proper nouns, action verbs, adjectives, pronouns, linking verbs, possessive nouns, subject/verb agreement
Spelling rules for plural nouns
Alphabetization
Parts of a personal letter & Writing a personal letter
Parts of a paragraph & Writing a paragraph
Other forms of written communication: lists/thank you note/invitation
The writing process (prewrite, draft, revise, edit/publish)
Use the writing process to compose narrative and descriptive paragraphs
Revision: word choice (use of a thesaurus), using strong details & a variety of sentence structure in writing
Poetry (text features/end rhyme and composition)
You are encouraged to watch the DVD lesson, which is purposely made into short, easy-to-understand lessons. These small "chunks" of information are helpful for children to understand topics better. Mr. Stephens teaches in a step-by-step, easy to understand way. He shows the students how to use the new concepts in their writing. After the student understands, then they can move onto the worksheets for each lesson.
Some of what we have already finished has been necessary review, while other topics have been new. Either way, we have easily been able to cover a couple of lessons a week as the boys have been able to grasp more and answer questions.
When we first received our product, I simply printed off their workbooks (which you can pick and choose what you would like to print). You can also purchase a pre-printed workbook for $20.00.
Our typical week includes me assigning a minimum of two lesson topics, if they can handle these there have been a couple weeks where we tackled 3 - 4 lessons. It depends on attitudes on the day we do grammar, but sometimes we put the DVD in our main television in the living room and I watch the lesson with both boys. If there has been fighting that day already, I put the DVD in the respective child's workbox and allow them to watch it on their laptops with headphones. When they are done listening to the lesson, they then bring their workbook (which I also put a spiral binding on) to me and we complete their "written" assignment. Here is a sample of the lessons on DVD:
This product has been working very well for us. The boys are making progress, and Joey actually feels a sense of accomplishment when he can understand a topic after watching it on the DVD. He can do it on his own, with only minimal help from Mom to help him with the review questions (which is what he calls the worksheets).
Brayden has been doing well with it also. Currently we are a ways off from seeing major improvement in their writing, but we are enjoying this program so much that we plan on continue using this and purchasing the next grade level for the boys. I actually can see this program really helping them with their sentence formation. Which is really important as both of the boys play online games, and try to communicate through instant messages. I am also planning to start Lydia in this program come our next school year.
Of all the actual language arts programs that we have used in the past year, I have to say that this is really my new favorite. The ease of use is incredible. I glance through the assignments when I am typing up the plans for the week (each child gets a daily assignment check off list) and that is pretty much it. It is the easiest subject that I have right now to "plan".
Several members of the School House Review Crew were given the opportunity to try all the levels of Essentials in Writing. Please stop by and check out how this curriculum worked in their homes.