*****Disclaimer......I received ABeCeDarian Reading Program free of charge for the sole purpose of this review. I was not required to write a positive review. The views I have expressed are my own and are real experiences with my family. I am disclosing this is accordance with the Federal Trade Commission's 16 CFR, Part 255
http://www.access.gpo.gov/nara/cfr/waisidx_03/16cfr255_03.html>:"Guides
Concerning the Use of Endorsements and Testimonials in Advertising."*****
I have had a student who has been struggling with reading. The right connections just haven't been made in her mind to catch on to this skill. We have tried flashy computer phonics programs that are all games and fun, but they just didn't seem to click. We recently had the opportunity to try ABeCeDarian Reading program, and the light bulb finally came on!!
Explicit, comprehensive, multisensory phonics instruction
Sound blending and segmenting explicitly taught and practiced
Letter/Sound correspondences taught in the context of reading and spelling words
Letter sounds taught before letter names
Code knowledge organized by sounds with engaging sorting activities
No rules!
Precise practice routines and error correction procedures
Integrated handwriting and spelling instruction
Expert oral reading fluency practice
Level A is for students in Kindergarten through mid- 1st grade.
Level B is for students in mid-1st grade through 2nd grade level.
Level C is for students in 3rd and 4th grade.
Level D is for students in 5th and 6th grade.
This program focuses on essential skills. It allows for productive error correction, so students can understand why words are read certain ways. It also provides the right amount of practice and reinforcement activities for students. It can also be use with beginner readers or those who are struggling and a little older.
ABeCeDarian Reading Program provides parents/teachers with a placement test, so that you know where to start with your children. Lydia took the placement test and after reviewing some pages form A-1, she actually started working in Level A-2, and that is the level where we have been chugging along. (She did have some very basic reading skills, so she knew all the words and sounds in A-1. So that is why we started into A-2.)
Everything is completely laid out for the teacher/parent to do. This program is super easy to use. It is all scripted out for you. The only extra work I needed to do was pre-read what we were to do that day for the lesson. You can also down load extra materials from ABeCeDarian to use. These materials include word tiles, word flashcards, and other extra supplemental materials.
Each workbook is broken down into lots of practice of both reading, spelling and handwriting skills.
This page is a mystery page where the student uses letter tiles (or in our case plastic letters) to spell out their new words for the week.
Lydia practiced using plastic letters, her choice. To do the turtle tap to help her find all the word sounds. She also would spell the words out on pages pictured above. I just didn't get a shot of her doing that.
There is also spelling practice and handwriting practice. This series provides for not only reading, but also copywork handwriting and spelling skills. This is Lydia working on a spelling pre-test.
She was covering the book, thought I didn't know that the words were at the bottom to help her.
There are many pages of reading practice with each section. The confident smile and seeing her eyes beam as she finishes reading pages with no help are priceless.
In addition to all the reading sentences in each book, you can also purchase early readers from ABeCeDarian. This set of 10 early readers is available for $21.50. Lydia is loving these. These fun books are simple, yet fun for the kids. There is not a bunch of extra colors and pictures to cause distraction. Lydia has been able to really grasp looking at the picture on the page to help decode the unknown word that she might be struggling with. These are a definite must for this series.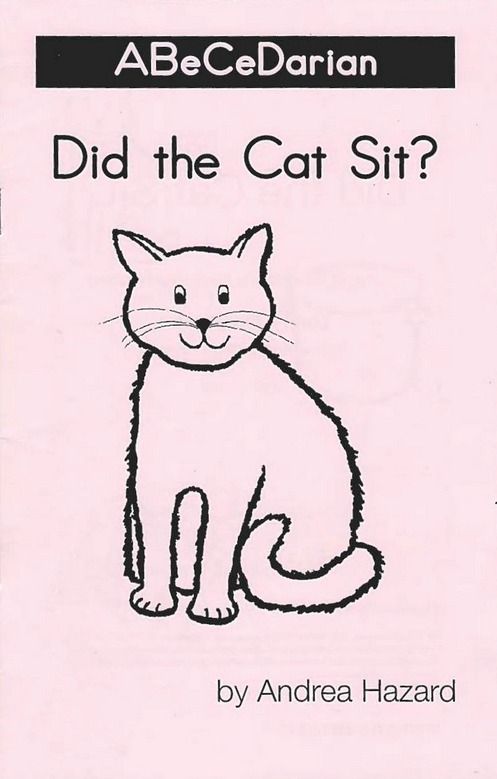 The ABeCeDarian Aesop companion reader ($2.50) is also available for the Level B series. This is a very nice reader, and reminded me of the early readers for Level A. We did not get this far, but Lydia is excited to start the next level as we are progressing quickly.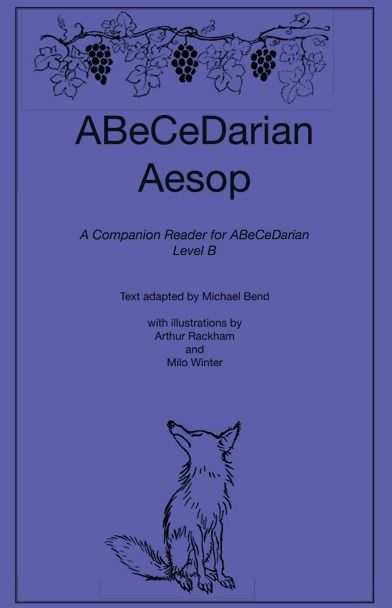 We have been using this product for about a month now, and I cannot fully express how wonderful it has been. Lydia and I used to both get so frustrated at reading just not clicking for her. I read early, so I just didn't understand why she wasn't understanding it. It seemed pretty straightforward to me. The look on her face when we realized that she actually was going to start working in Book A-2 of Level A caught us both off guard. She is making rapid progress in her reading skills and early spelling skills.
The simplicity of using this program is wonderful. I always thought we should go with the flashy programs, because hey....you need to use the computer to learn...right?!? Well not in our case. The fact that I didn't have to pour in a ton of extra time to use this or to guide Lydia through her lessons was awesome. The simple illustrations and bold fonts made this program a GREAT addition to our homeschool. I also really like the price. It does not cost a fortune for this program. For Level A, with early reader books it is far less than half what I spent on just one of the many flashy programs that I have purchased in the past that were supposed to help Lydia learn to read.
Will we continue with the ABeCeDarian Reading program? An outstanding YES!!! Lydia is loving it. Her face is always smiling when she is done, and that is even when she is in a bad mood. She is starting to build up confidence to pick up other books (besides the early readers from ABeCeDarian) and read them with us in the evenings. Two months ago, I couldn't get her to pick up any books. We will be sticking with this program and continue to use it with Lydia.
How to purchase ABeCeDarian Reading Program....
Level A-1
Student Workbook -$12.25
Teachers Guide - $28.50
Level A-2
Student Workbook - $12.25
Teachers Guide - $28.50
Level A Early Reader Storybooks - $21.50
Level B-1
Student Workbook - $10.50
Teachers Guide -$25.50
Level B-2
Student Workbook - $10.50
Teachers Guide - $25.50
ABeCeDarian Aesop Reader - $2.50
Several members of the SchoolHouse Review Crew were able to use the ABeCeDarian Program in their homes. Check out the SchoolHouse Review Crew Blog to see how this program worked for them.