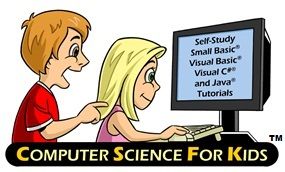 *****Disclaimer......I received Computer Science for Kids Beginning Microsoft Small Basic, free of charge for the sole purpose of this review for the School House Review Crew. I was not required to write a positive review. The views I have expressed are my own and are real experiences with my family. I am disclosing this is accordance with the Federal Trade Commission's 16 CFR, Part 255
http://www.access.gpo.gov/nara/cfr/waisidx_03/16cfr255_03.html>:"Guides
Concerning the Use of Endorsements and Testimonials in Advertising."****
I seriously know absolutely nothing about programming computers. And this is one of Joey's biggest interests. So I have begun to look at computer curriculum that maybe both of us could be able to use. We were then given a wonderful opportunity by Computer Science for Kids to try out their Beginning Microsoft Small Basic e-book program (Reg. $59.95, on sale through 7/4/13 for $34.95).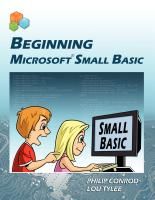 Beginning Microsoft Small Basic has been written for students as young as 10 and can be used by adults also. This program was super easy to download. I then printed out the materials and put them in their own binder for Joey to keep on his desk for easy reference (and to encourage him to use it on his own).
This was definitely a daddy and son program to use together. The lesson average time was (for Joe and Joey) about 30 minutes a couple times a week. They usually do the lessons over dad's lunch hour if that gives you and idea how little extra time they take.
Beginning Microsoft Small Basic has over 500 pages of notes and actual course work. I was very impressed with the amount of information packed into each chapter. The first chapter even has some history thrown in to give the student an understanding of why and how Microsoft Small Basic was created.
Computer Software for Kids has actually partnered with Microsoft® DreamSpark®
program to support and advance students learning and skills development, by providing middle and high school students the latest developer and design software from Microsoft, at no additional cost.
How has Joey been enjoying this program? Well as much as he loves playing on the computer, he is having trouble grasping programming. Between his Dad's help and the help of this program, a few things started clicking for him. It has been a definite hands-on project between him and dad, as Joey was so far unable to work completely independently on it.
The programming that students will be working on is mixed right into the reading. They are given the lines to type in through step-by-step instructions. It gives them a great feeling of how to create. I like that the instructions are mixed within the reading, making the reading more interesting and keep Joey's focus. He does not handle computer "textbooks" well. He cannot stay focused, but with the Beginning Microsoft Small Basic the pages could keep his focus better since what he was reading was his actual work.
Joe said everything is presented in a straight forward and easy-to-understand manner, and after a few more lessons he feels Joey will be able to work more independently than he already is. Depending on how focused you make this as part of your studies, you could finish this program in a little over two months. Or you could stretch this out over a couple semesters of computer programming lessons. I know by the time that Joey gets to Chapters 10 and 11 he will get super excited at "creating" those unique programs.
I am definitely leaving this program as part of Joey's weekly schoolwork. Who knows what he may start creating? The price also makes it a very affordable option for families to use.
Other members of the SchoolHouse Review Crew were able to try out both Beginning Microsoft Small Basic and Computer Bible Programs for Microsoft Small Basic. Stop over the SchoolHouse Review Crew Blog to see how these programs worked in their homes.