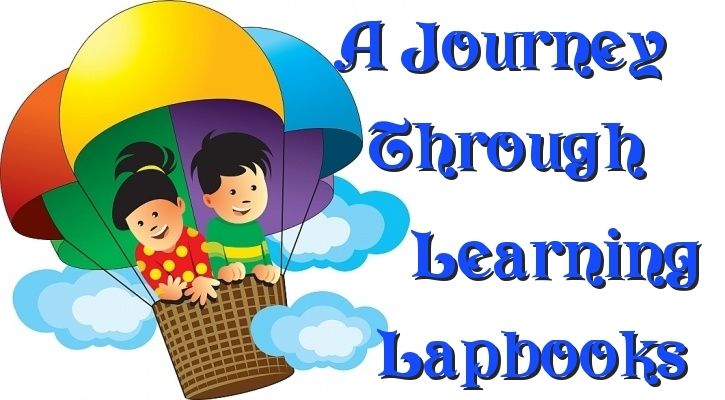 How many of you have tried lapbooking? It's a great way to teach multi-levels in your home, classroom or co-op! We recently had the opportunity to try out lapbooks from A Journey Through Learning...and we have fallen in love!!!
A Journey Through Learning was created by two homeschooling moms Nancy and Paula, who never intended on running a business. But they wanted more quality hands-on learning products for homeschoolers. A Journey Through Learning lapbooks were born.
We recently had the opportunity to try out several different lapbooks from A Journey Through Learning. I must say this.....it was the easiest Science and History lessons I have done with the kids in a long time. I had no extra planning. I did order some books from the library and planned a couple extra activities, but to be honest we did not use any of the extra books for the kids.
Lydia used The Earth for Grades 1 - 4.
We used a hard boiled egg to show the layers of the Earth.
She made a volcano with modeling clay.
We also have the opportunity to try out these studies:
Joey did Knights and Castles ($13.00 for instant download) on his own. Again, I over reserved material from the library only to discover that all the information is provided. It was the perfect amount of information for Joey to understand. There are activities suggested were wonderful and the only extras I threw in were some recipes and I found some costumes and dress-up kits from our local art museum. How simple!
Some of the topics covered are:

fall of Rome, leads into the Middle Ages and then the real fun begins when learning all about knights, castles, heraldry, serfs, and peasants.
He was able to finish the majority of this with minimal help from me. He would do the reading and I would help him assemble the lapbook. I did that mainly to verify that he had completed his reading. He finished this one in a little over two weeks, and he really enjoyed the content and what he read. He learned alot. I supplemented with a couple fun movies like A Knight's Tale and Black Knight, and he even cooked some medieval type meals.
Wearing a costume from the art museum box.
I checked out a box on Knights and Castles from our Art Museum library, thinking how great to have all the supplements. Funny thing is, the kids loved the costumes and all the "extras" I thought would enhance our study was actually in the material already provided by A Journey through Learning. I say this again, to show how simple and easy these unit studies are for families.
Caty had the opportunity to use (and we are still using this in her studies) Letters, Numbers and Shapes ($13.00). She is having fun with this and we are currently using this alongside her Hooked on Phonics alphabet study and we used the shapes and numbers section to have Shape/Number days.
Caty really has enjoyed working on this lapbook. She has even asked to go back and look at what she completes. That is something the boys have never asked to do with a lapbook.
She enjoys the hands on and "creating".
Some of the topics covered in Letters, Numbers and Shapes include: basic number skills, counting, shapes, and letter activities. This is very basic early learning skills made with a fun approach. It has worked well to enhance her other curriculum and make those basic skills more fun. This lapbook would be great so the littles who want to do lapbooks with their older siblings can have one at their level.
The final book that we have the privilege to review, was Astronomy and Space Unit Study ($13.00 for instant download). I approached this study a little differently. Both boys worked on this unit study. Instead of a "lapbook" approach, I chose to bind this unit together and do it like a notebook.
Again, it was simple to print and we were up and running in no time. I did order supplemental material, but we used maybe one book. They were able to do this unit study on their own, and I supplemented with videos from Brain Pop and Brain Pop Jr, as well as Magic School Bus. Kids on the higher grade level might find those a little "babyish", but they worked out well for our boys.
Some topics included in this study are comets, asteroids, planets, moon phases, astronauts, stars, etc. Here is the boys learning about moon phases. They each made a chart.
We also added a model of the solar system....
So how well did these work for us.....A Journey Through Learning lapbooks were a huge hit with all the kids. I loved the simplicity. My only real prep work was a little reading of the material, printing the booklets, and writing a suggested time schedule for each kid. Science went very smoothly for the month of March!!! Lydia felt a sense of accomplishment and loved seeing her little "book" that she helped create about the Earth. Caty is also enjoying her "book" and she looks at it even on days we are not adding to it.
We are already looking at the next topics the kids would like to cover. I would highly recommend A Journey Through Learning products for any family.
Several members from the SchoolHouse Review Crew had the privilege of using A Journey Through Learning products in their homes. Be sure to check out The SchoolHouse Review Crew Blog to read about their experiences.