*****Disclaimer......I received These Leader Garden products free of charge for the sole purpose of this review. I was not required to write a positive review. The views I have expressed are my own and are real experiences with my family. I am disclosing this is accordance with the Federal Trade Commission's 16 CFR, Part 255
http://www.access.gpo.gov/nara/cfr/waisidx_03/16cfr255_03.html>:"Guides
Concerning the Use of Endorsements and Testimonials in Advertising."*****
Teaching a leadership role is a difficult subject to help children with, especially with my boys. I have a difficult time because of my Type A personality. How do I teach my children how to be leaders, when I struggle with this issue myself. So I was super excited to get the opportunity to try out U.N.I.Q.U.E. Kids from Leadership Garden Legacy.
We had the opportunity to try: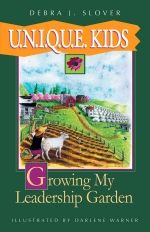 U.N.I.Q.U.E. KIDS is designed as an interactive leadership development tool with the participation of grownups or older students who can read the book with children (ages 5-12) and provide mentoring and reinforcement of the concepts and discussion.
Using fables, this title uses positive stories to show children how to plant their own leadership garden, nurture the seeds and keep their gardens weed-free.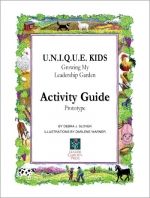 This complement to U.N.I.Q.U.E. Kids - Growing My Leadership Garden (ages 5 - 12) is a downloadable interactive workbook to help students really think and create their own leadership garden by following along with their reading.
U.N.I.Q.U.E. - Growing the Leader Within - 18.95
When you boil it down to its essence, leadership is about working with others to make a difference—in our family, school, community, business…or even our world.
In the style of the U.N.I.Q.U.E. Growing My Leadership Garden, U.N.I.Q.U.E. Growing the Leader Within is made for adults also to actively work to make a difference in their world. To show them that it is not only your own skills that will make you a good leader, but also having good self-confidence.
The Leadership Garden Guidebook - $18.95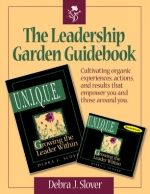 Step-by-step exercises to create your own path to a "Leadership Garden": a set of principles and guidelines to move from being a confused and befuddled passive participant in life, to becoming a strong, self-confident leader who earns the respect of others, and who earns the harder-to-win respect of your own self.
This book can be used as a companion with the U.N.I.Q.U.E. - Growing the Leader Within or as a stand alone. It is wonderful for use by anyone who may be in a leader position currently or may be in one soon. It provides a step-by-step approach to help adults to "weed" out their gardens and allow their plants to stand strong.
U.N.I.Q.U.E. Kids - Growing My Leadership Garden Downloadable MP3 Files. - $8.95.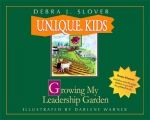 This is a wonderful way to listen to the book reading together at home or just while ou are traveling around (like we do).
This unique approach to looking at leadership was designed by Debra Stover, who had for many years allowed her past to control her present and future. She knew how to help, and finally realized what she needed to correct. She was able to make adjustments and is happily married with a family now.
How has this program been working for us?
Lydia and I are covering small amounts each week. She is enjoying the fables, although I do not think she understands all the concepts yet. And since it is recommended for Ages 8 and up, it makes sense. Joey does not enjoy fable stories, so I have been trying to read these with him and in some cases summarize what each lesson is about We are working on role playing to practice good leadership skills.
I am really enjoying reading U.N.I.Q.U.E Growing the Leader Within. This is a light reader, so you are not mapping out brain activity.....just working on your own confidence. This book has really forced me to look at what I need to be doing and changing. Also why I do things the way that I have been doing them, and then encouraging me to develop the confidence to leave them or change them.
We do plan on continuing this course study (and that is mom included). It is very simple to use, and also straight - forward. In fact I have almost finished reading my book, and plan to go through it again. I feel that I can learn so much more detail if I go through it multiple times. This is an area that I would really like to improve in, and I am enjoying these fables. They are written in an interesting way, and include wonderful life-lessons shared by the author from her own life. You really feel like you are talking one-on-one with her and learn how to overcome those depressing areas in life. And it's hard to believe that those depressing times make such a lasting impression on who we become or change to be.
The MP3 files were great for those times when I was struggling to read. We could listen to them in the van while driving to field trips. I have found that books on cd are great in the van because they open up for great discussions while we are driving....the kids must talk to me, they have no other place to go!!
Other members of the SchoolHouse Review had the opportunity to try out these products, be sure to visit the SchoolHouse Review Crew blog and learn how others were able to use Leadership Garden Legacy in their own homes.

Leadership Garden Legacy is offering the TOS Community a "Spring Special Discount" of 20% off all their Empowerment Tools. Simply enter the discount code, TOS-SS20D upon checkout. This is a limited time offer and the code will expire on May 31, 2013.