"What do you mean there are people that don't have as much as we do? We don't have that much!"
"Seriously, if there are people starving somewhere....feel free to send them those canned peas you keep trying to feed me."
Sometimes it's really hard to correct our parenting mistakes when we spoil our children, even when we do not even realize we are spoiling them. So in what ways can we show our children how to help others? What simple projects can we do to help them learn how to take care of the ones around them?
Christianity Cove
has a wonderful book that we recently were able to review that shows
100 Simple Service Projects for Children's Ministry
($19.95).
You think that teaching your children to give is easy, and it's not. Our kids really have so much, and I suggest going through their toys and donate items that they no longer are playing with or have outgrown and it is like I ran into a brick wall. The littlest kids meal toy suddenly becomes their absolute favorite toy in the world, and they swear they play with it daily. So we go slowly....and sometimes mom sneaks things out to get them out of their rooms.
But it takes more than just donating a few toys to Goodwill to encourage your children to help others. It is our job as parents to show our children the joy there is in helping others.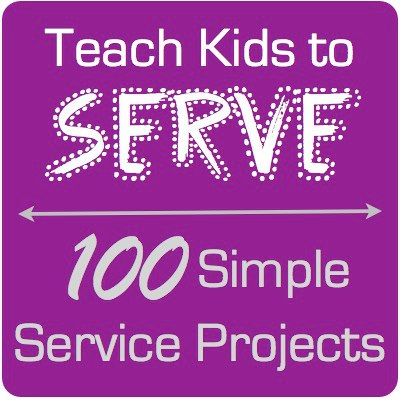 I wasn't sure what to expect from
100 Simple Service Projects for Children's Ministry
. In the back of my mind I had already resorted to the thinking that we already do a couple of community projects with Girl Scouts and we donate to the EMS and other organizations. We volunteer with Special Olympics also, so what else do I need to be showing the kids.
100 Simple Service Projects for Children's Ministry
starts out with super easy projects. I love the first idea of it starts at home, teaching your children how to help you as parents and to help their own family run more smoothly. Guess I never thought of this as a Service project, but it is true. If family life can run more smoothly, then your family as a whole can help others together. Also the younger you start teaching your children to give, the more of a lifelong practice it will become for them. It will seem like the norm, instead of a "must".
Once you work your way through the at-home phase chapters in
100 Simple Service Projects for Children's Ministry
, then you are able to start tackling your neighborhood. Simple projects (such as donating small stuffed animals to your local fire department/EMS) really do help out your community. Our son still has the stuffed animal from over 1 1/2 years ago that the EMT gave him on a ride to the hospital. It really means a lot. A project such as this requires no extra money on your part, just a little bit of time. What about a sick or elderly neighbor? Do they need their garbage taken out or their weeds/lawn trimmed? Just a friendly hello can make their day....and again something this simple requires little extra time on your part. You are helping others and again you have spent no money (if you are watching your budget like so many need to today). Some parents really look at how much time they much invest in these types of projects, and if they are not careful their attitude will rub off on their kids.
After working in your community,
100 Simple Service Projects for Children's Ministry
then introduces your children/family to the world of helping with larger charities in America and around the World. There is also information to help you to tell the difference between scams and legitimate organizations. Because it would be so frustrating to be trying to help, and realize that you have been scammed and no one was really helped.
I really enjoyed this book. Yes it is written from a Christian viewpoint, but it was full of very useful information to help me track down extra ways to make sure that my children learn about giving. These projects can be done with your Church, but really they are good for everyone whether you go to church or not. It is also great for all ages.....Our kiddos are ages 5 to almost 13. There is something that touches all their interests. Adults could also use these suggestions to find ways to help out more.
It is a book that I have printed and bound and will continue to use for several years (just keep checking for changes in addresses and URLs).
100 Simple Service Projects for Children's Ministry
really saves a lot of time by putting all the information into a ready to use book. It's a real time-saver for me because it saves me time on research.
I would definitely recommend it to anyone who really wants to give their children a firm foundation in helping others, but not sure how to go about it. There are so many suggestions for Volunteer Opportunities.
Several members of the Schoolhouse Review Crew were able to use various products from
Christianity Cove
. Please take some time to see how the selections were able to be used in their homes, including
100 Simple Service Projects for Children's Ministry
.