We bounce around with math as a tough subject in our house. And not one program seems to work for all our kids, except one....MATH MAMMOTH just seems to work.
We recently had the privilege to try out MATH MAMMOTH Light Blue Series Grade 4 Math Complete Curriculum ($34.00 for download, $39.00 for cd). Brayden is our worksheet guy. He enjoys doing worksheets and workbooks. This is definitely his comfort zone. He has tried online math programs, and he just does not enjoy them as well. Brayden has been flourishing using the MATH MAMMOTH Light Blue Series program.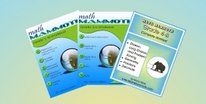 MATH MAMMOTH Grade 4 Complete curriculum is a full year math program for the 4th grade. Everything that you need is included. There are two workbooks, answer keys for each workbook, tests, reviews, and (with online access) an additional worksheet maker.
MATH MAMMOTH has created a program that allows students to master key skills by having students work daily on new skills. They work until they are comfortable and able to do the work.
mastery oriented: it concentrates fairly long on one topic, with fairly few topics per grade;
focuses on conceptual understanding;
uses lots of visual models and exercises based on those;
emphasizes mental math and developing number sense;
nearly self-teaching since the explanations of concepts are found in the student work text. Thus this curriculum requires fairly little preparation time from the teacher.
You do NOT need to buy a bunch of expensive manipulatives to complete this program. In fact, the Grade 4 Complete package only requires a ruler that measures in inches and centimeters, a measuring tape that measures in feet, and a measuring tape that measures in meters. So a ruler and a measuring tape....both can be bought at the Dollar store!! I think this is one of the things I like the most about MATH MAMMOTH. It's not overly flashy and you are teaching your children without spending a ton of money.
Brayden has been using the Grade 4 Complete package for a few weeks now, and I like the length of the lessons. Attention span is a huge issue for him. We sit down to do the work, and even with me doing explanations of the new technique, we are done with math in under 30 minutes.
No long drawn out lessons that take up to an hour. The only time it takes longer is if Brayden gets extremely distracted and wanders away. On bad days like that, I usually split up the pages so that he gets practice learning the new material and spread it out over several days as he begins mastering the new topic. This curriculum is easily convertible to work well with your child's attention span.
You do not need a bunch of extra textbooks/teacher's guides. Everything is made very easy, and explanations for lessons are included with the student text.
Another perk of the MATH MAMMOTH Complete Curriculum package is the ability to create more worksheets. Say we work through a new skill, and I do not feel like he has mastered it, I can easily make up more practice for him.
Even though I always thought that the flashy programs were the best, boy was I wrong. The extra flashy programs with tons of pictures only cause distraction. Brayden would spend more time playing with the character/avatar's clothing or features than doing his actual work. With the MATH MAMMOTH program, there is less distraction on the page. Which also leaves plenty of room for working out his problems.
I will gradually be switching Lydia to MATH MAMMOTH as she finishes her other program, and moves up a grade level. Less distraction on a page is best for her also. Oh and the price is definitely right for our budget!!!
So the question is, would I recommend MATH MAMMOTH to other homeschooling families? Yes I would.
It has been a great fit for Brayden, who continues to make progress in his math.

It is super easy to use!

It is a full program at an inexpensive cost, and as many of you know.....full math programs are not cheap!!

The lessons are easily adapted to all attention spans.

And did I mention how inexpensive it is.....sorry I thought that this deserved two mentions!!