I am not computer literate at all!!! Once I have exhausted rebooting or checking with a few other possibilities, well that is when I start yelling for Joe to come and see what happened. Fortunately Brayden has NOT taken after me when it comes to computers. But I have no idea where to go with him now that it is time for him to start pursuing more computer skills. Fortunately we were given the opportunity to try out Motherboard Books, Let's Make a Web Page ($19.95) curriculum.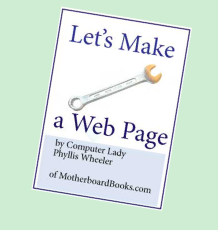 This program was created by Phyllis Wheeler for Ages 8 -12. It helps children learn how to make a webpage using a free trial of the software CoffeeCup HTML Editor. It includes a 60 page instruction e-book on how to download the software, create, add accents/animations and post your work.
Table of Contents: Introduction for Parents
Lesson 1: An Interview
Lesson 2: Download and Set Up the Program
Lesson 3: Add Text
Lesson 4: Make a Table
Lesson 5: Add Photo
Lesson 6: From the Internet, Add Animations
Lesson 7: Browser Check, Backgrounds, Photos
Lesson 8: Sound
Lesson 9: Links
Lesson 10: Post Your Work
Appendix: How to Upload to the Internet
I felt very comfortable with Brayden using this program. Yes, I was there to sit with him through the process.....but he could easily have worked through this on his own. I was looking for a way to give him a bit more structure in his computer education, instead of just winging it. I definitely found this option an inexpensive and an easy project for him to take on.
Another thing I really liked about 'Let's Make a Webpage' is it not only allows for creative growth, but the project forced him a bit out of his comfort zone. He needed to do an interview with someone. I allowed him to keep it in the family and interview his Grandfather, but he conducted an interview. So he was not just staring at the computer for the entire project.
The e-book is laid out in an extremely user friendly (and parent friendly) manner. Step by step instructions with plenty of visual cues on what the screens should look like with almost each step.
This program can be done in just a few days, or even in one day depending on the amount of time that you and your child dedicate to the project. It is really that easy to use.
Motherboard Books has really helped me lay out the foundation for more computer education. It has drawn Brayden's interest in this direction, and that is not an easy task. Let's Make a Webpage has been able to get him going in a good direction when it comes to computers and programming.
The only problem that we ran into, Brayden and I both have Macs. So we had to download on his sister's desktop and we had to fight with her for user time...lol. I would look forward to seeing a possible version of this for Mac operators.
Even with this little snag, I can't wait to help him continue to making webpages. He asked me not to share the link to his page. He says he is not done "fixing it" and still hasn't let Grandpa even see his interview yet.