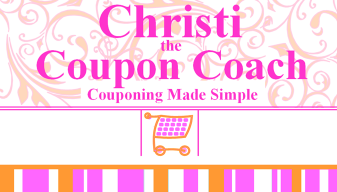 I love to save money. We shop second hand on as much stuff as we can. We watch for sales and clearance racks. I watch those shows on reality TV and just can't figure out how those families get hundreds of dollars in groceries for little or no money.
I recently had the opportunity to read a book written by
Christi the Coupon Coach
called
Couponing Made Simple ($20.00 for softcover, Kindle edition $4.99)
. I was really afraid that it was going to be a big extreme couponing book. I was wrong.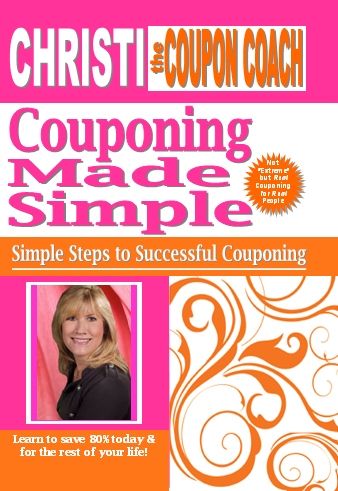 I never realized that there are so many types of coupons. I also guess I never realized the amount of places that money saving coupons can be found. Yeah....I knew about newspaper coupons. There are so many more sources out there to save money. I guess my biggest hang up is that I try to limit our processed foods. They are not healthy, and after watching too many reality shows that is what I had in my head would be the only thing I can buy with coupons. After reading through
Couponing Made Simple
, I have discovered ways to watch the sites of my favorite grocery stores for savings on the healthier items that I am trying to purchase more.
For example, the Kroger shopping card tracks my purchases. It knows what I buy. Once I discovered that I can log onto the Kroger website to check for savings there, I found a large amount of savings/coupons for organic foods and vegetables that I purchase from them on a regular basis. I was also pointed (through my reading) that these could be loaded onto my shoppers card....no clipping involved. With this new experience, I saved about $10.00 on purchases including Vegan cheese, fresh green peppers, fresh broccoli, organic salad mix, fresh apples, non-GMO potato chips and soy/dairy free mac and cheese.
I think I was most ecstatic about the fact that I had coupons for organic veggies!!! My cart still held processed foods, and I learned how to stack store coupons with newspaper coupons to gain savings on the items like cereal, frozen pizza treats and popsicles that the kids like. Maybe I will have to start checking out coupons more :)
Christi the Coupon Coach
shows you a system that allows for anyone to clip coupons and learn how to save money. Some may save for than others, but all will save. This is not an extreme coupon course, but a way to help you get the products that your family need and saving money while doing it. Who doesn't love to save money? Just think....saving $10 - $15.00 a week, adds up over the course of a year.
Not sure yet, check out one of Christi's interviews on how her system works:
While reading this book, I realized the reason I don't enjoy couponing is that I not only have the wrong idea about what couponing involves but I am unorganized at it.
Christi the Coupon Coach
helps you to set up a system that allows you to save money, but not take hours every week to save money on your groceries.
Realizing my own mistakes while trying to coupon in the past, would I recommend this book?
Yes I would. I am very impressed with the fact that I have learned how to purchase foods that I want us to eat at a discount. I also like that I now have been shown a system to help me save money and time. My most favorite part of Couponing Made Simple.....not pushing extreme couponing. Yes, some people may be able to save 100% on their grocery bill almost weekly, but those of us in the real world do not eat those foods or have the time to invest 40 hours in clipping coupons.
Christi the Coupon Coach'
s approach made sense to me and allowed me to save about $40.00 on my first grocery bill after starting my reading. That doesn't sound like much, but figure $40.00 is the price of a local amusement park near our home!!! So I believe that it is definitely worth it and I plan to continue "read world" couponing using Christi's approach to save money for our family.
Several members of the Schoolhouse Review Crew had the opportunity to try out
Christi the Coupon Coach - Couponing Made Simple
. Visit the Schoolhouse Review Blog at the link below to see how this title helped them out in their own homes.