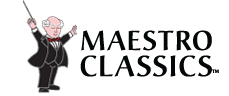 Product- The Sorcerers' Apprentice
Casey at the Bat
Vendor-
Maestro Classics
Cost- $16.98 CD, $9.98 Download
Age Range- Ages 6 and up
How many kids really listen to classic or orchestra music? There is a large generation of kids out there right now that do not know this art form. Their parents did not like it, so they never thought to expose their kids to this style of music. We had the privilege to review products from Maestro Classics. Maestro Classics produces classical music cds that are played together with fun-filled and favorite stories.
Research has been done showing that the use of classical music helps improve children's attention spans and allows them to get more information from the material they are studying. I have been known to turn on the classical music station on our cable box in the background during the day.
The kids seem to be calmer when we do this.
How we used the Maestro Classics?
We received the CDs,
Casey at the Bat
($16.98) and
The Sorcerers' Apprentice
($16.98).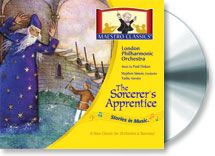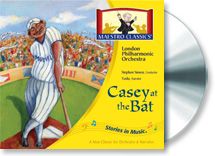 We do a lot of traveling in our vehicle. So these were great in the van.
The story is told along with the music. While listening to Casey at the Bat, we were able to talk a bit about baseball. When we got home, we also looked up some videos on baseball games and how people train to play.
Both disks that we tried also had a biography about each story/poem's author. So you do not just get the story and music. There's extra music excerpts, as well as lessons in music and why the orchestra plays that way.
Each disk also has a 24 page booklet that has a printed version of the poem/story, activities for the kids to do, and examples how to read sheet music or even write out sheet music. The disks that we tried, ran between 30 - 45 minutes in length for playtime.
We did have a little trouble controlling the volume. It would go very low, and then get loud quickly. But Caty also has sensory issues, and it could have been her. She lost interest right after the stories were done being told. But she has been to the symphony and is not a big fan. Her favorite was Casey at the Bat. Not sure why, but that was.
Not only did the kids get a chance to listen to wonderful orchestra music, but literature study is also encouraged. The Maestro Classic disks could very easily be turned into a unit study. We did do extra research on baseball to go with Casey at Bat. We watched some videos on techniques and also of some games. I think this really helped Caty to visualize as she was listening.
We really, really like
Maestro Classics
.
The options are endless with what your family can do. We plan on leaving these titles in the van while we are traveling. As a family we usually listen to audio books when we travel. Both The Sorcerers' Apprentice and Casey at the Bat are titles that you can listen to repeatedly. The cost is reasonable, especially for the MP3 download option.
Maestro Classics
has many options for families:
Sorcerer's Apprentice, Casey at the Bat, The Tortoise and the Hare, The New Story of Swan Lake, Carnival of the Animals, Juanita the Spanish Lobster, Mike Mulligan and his Steam Shovel, The Soldier's take, Peter and the wolf, and My Name is Handel. Wonderful opportunities to bring literature alive and more fun for your family.
Several members of the Schoolhouse Review Crew had the opportunity to try out Maestro Classics. See how they use the product in their home. Visit the blog and take a look around.