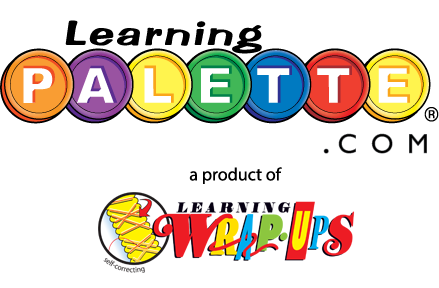 Product:
LearningPalette.com
Vendor:
Learning Wrap-ups
Price: 1 student $25.00 for one year, 5 students $60.00 for one year.
Age: Grades K - 5
Our kids love online games. I love online "games" that encourage that learning. I feel less guilty about letting them play online if I think they are learning and improving on skills. So I was very excited to get a chance to try out
LearningPalette.com
from the makers of
Learning Wrap-ups.
LearningPalette.com
is a great choice for our family. We have access to all these wonderful learning activities, and yet nothing to store except our laptops.
LearningPalette.com
provides over 35 math levels and 20 reading titles for grades K-5, which gives your student almost 8,000 questions to answer.
Login is super easy. Once you are in the program, you simply choose your subject, area you are working on and the lesson you want to do.
A game board is brought up for the student.
Once the student answers all the questions, they can have the computer check them. It gives them feed back. Then they have the choice to try again or move on.
Parents can also get a progress report to print for their student's assessment file, or to keep track of what their student needs to work on.
How did this work for our family?
Well Brayden did not like playing this program. I actually had the same issue with all the kids, but Brayden was one who could not overcome it. All of our kids have visual perception delays, which means they basically need a little bit extra time for their brain to click with what they see. Unfortunately this online learning game requires a bit of thought. Once their brain figures out the answer, then it needs to tell them what circle to drag to the complete the board. Brayden got extremely frustrated trying to figure out the whole circle and the "part" circle (as he called it).
Caty and Lydia on the other hand, did get frustrated, but were able to get past it quicker. They still kept second-guessing themselves, but were able to complete levels successfully. They really liked that they got instant feedback when they submitted the answers.
We are continuing to use
LearningPalette.com
as supplemental materials to go along with our regular lessons. If they had their choice they would prefer to do the math program. But they both love math games.
I definitely think that
LearningPalette.com
is a good value. You get a version of the Learning Palette system without the need to find storage for the cards. We travel a lot now, so the kids are able to still practice their skills using
LearningPalette.com
just by using their laptops which we bring with us every trip anyway. If I had to pack the Learning Palette system, the kids would not get to use the product. Caty is able to even play it on her iPad using her internet browser. So I don't even need to get her laptop out to play on the
LearningPalette.com
website.
We are definitely going to keep our subscription to
LearningPalette.com
. Even though it sometimes feels like the frustration from the kids is not worth it, I remember that the more they practice the visual skills the better it is. So really
LearningPalette.com
has been a great form of visual perception therapy for them.
Several members of the
Schoolhouse Review Crew
were given the opportunity to try a variety of products from
Learning Wrap-ups
. If their products seems like something you would like to use for your family, please visit their blogs and see how they used the
Learning Wrap-ups
products in their homes.