We recently had the privilege to review two DVDs from the Go Science line of education movies (series 2). These are available for purchase from Library and Educational Services.
The Go Science DVD series was created for kids ages 4 - 12 by Ben Roy, a professor of science methods at the University of Tennessee. He also was a director of a science program on television. Go Science Series is creation based, Christian science DVD series that includes a reminder that God is the creator of all things. He presents scientific topics in a fun and attention grabbing way, making it a great series for students that are having trouble enjoying science.
We had the opportunity to try out: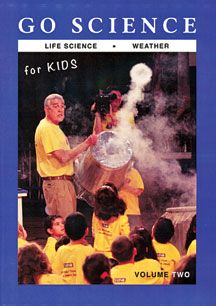 and
The list price for these DVDs is $14.95 per title, but each is priced at $8.97.
Each DVD is roughly an hour long and is broken into short sections. The Life Science DVD was a huge hit and I have watched it several times now. Each little section is broken down in such a way to cover each topic on a child's level. It worked out great for Caty's and Lydia's short attention spans.
Each section usually has some sort of experiment. Now some of the experiments we could do at home ourselves because they were everyday items. The girls were doing the spider eyes experiment with a flashlight in our hotel room. They thought that cool.
Other experiments though could not be done with everyday items and did require specialty items that only science labs or schools with large budgets would have. That was a little disappointing to the girls, but he gives a full explanation and you can watch the experiments being performed. I chalked that one up to less work for me....since I didn't have to chase down weird parts and clean up a mess. I easily let the girls re-watch the episode repeatedly.
We used these as supplements for materials we were already learning. You could easily use these to plan your entire science curriculum around though. The one thing I wish there was is a teacher packet with extra resources available for download. If you choose to plan your curriculum around each episode, you may have to look up extra materials depending on the level of your student. This is not a DVD of just experiments. Mr. Roy gives good explanations about each topic and includes experiments.
I really did like the Go Science DVDs that we have and I plan on purchasing the rest of them. They make great supplement for the boys, who seem to be wanting to get away from their old favorite cartoon science show. The length of the episodes are ideal for their attention spans. I can choose how much we should watch each day. They are just great to pop in and watch if you need a quiet afternoon watching educational programs for any reason. The cost available to homeschoolers through Library and Educational Services is phenomenal.
The only thing I will warn you about, they are very much Christian based. If you are looking for Creation based science, these are definitely the science videos for your family. Mr. Roy does refer in each segment about the glory of God and encourages families in their faith in God through science. They are Creation-based Science.
There are many titles to choose from, so be sure to visit the Go Science Series page at Library and Educational Services.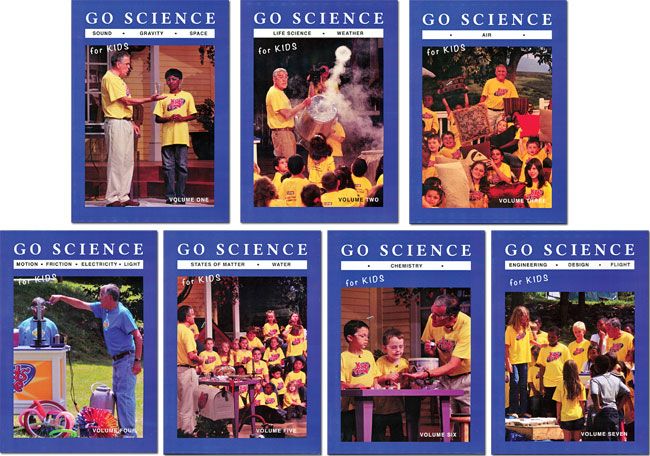 Volume 1: Sound, Gravity, Space

Volume 2: Life Science, Weather

Volume 3: Air

Volume 4: Motion, Friction, Electricity, Light

Volume 5: States of Matter, Water

Volume 6: Chemistry

Volume 7: Engineering, Design, Flight