Reading can help imaginations of young children. You can take trips around the world with books. In a classical education, parents can use books as textbooks. That takes a little bit of extra work on their part, but
Progeny Press
has done the work for parents with their study guides for literature. We recently had the opportunity to review
the Sam the Minuteman Study Guide.
($11.99).
Sam the Minuteman is set in the Revolutionary War period. It takes students to this time period through the eyes of a boy very close to their own age. It is an early chapter book that is written for those reading at a 2nd to 4th grade reading level.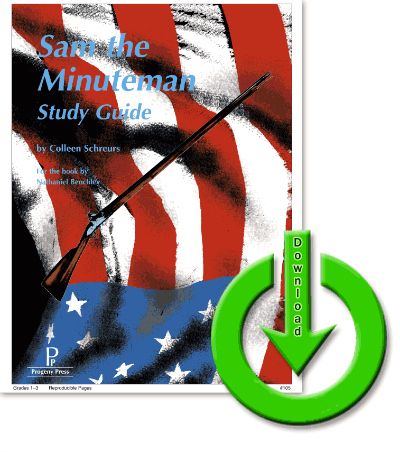 Progeny Press' Sam the Minuteman Study E-Guide
is a 42 page curriculum guide that takes an early chapter book and turns into a lesson in history, timeline and geography skills, language arts, reading comprehension and vocabulary lessons, and early writing skills. For those who use the Bible in their classroom, there are also scripture references included to help show children how the Bible can be used in everyday life decisions.
Progeny Press' Sam the Minuteman Study E-Guide
allows students to dig into language arts topics such as Learning about the mood created by the author and writing poetry. Learning how to create word pictures, which effectively is the whole point of wanting to read a good book. These are all topics that we do not look at on a regular basis or that I forget about when trying to create my own unit studies. They are great additions, because it really helps to bring the books more alive for my ASD kiddos that see everything in Black and white and do not have the same imaginary skills as their peers.
The
Progeny Press' Sam the Minuteman Study E-Guide
is easily downloadable. I was able to get access easily and it didn't require a ton of Zip-files (which I am not a fan of weeding through).
Progeny Press' Sam the Minuteman Study E-Guide
really allows students to get the most out of their reading and practice important education skills without the requirement of a stack of textbooks. I have purchased many different types of study guides through our years of homeschooling, but this guide from Progeny Press has really given an all-around lesson plan to use with a book.
I really like that I can easily print or not print the material that I want to use. Many of the activities I can do orally with the kids. Since we struggle with writing at times and history is a group subject, if I had a worksheet times 4 kids, that would be a ton of extra work for me. I really liked that I could use the same study guide with multiple levels with just some slight adjustments in what I required of them depending on their skills.
The "living history" projects that are also included allows students to get a taste of what life would have been like during that time period. The only subject that you need to add to this study guide, is your math. Everything else is included. You could easily make Sam the Minuteman a week long study with the help of the Progeny Press Same the Minuteman Study E-Guide.
I can't wait to get started on our next
Progeny Press
Literature study guide. Several members of the Schoolhouse Review Crew were given the opportunity to try out various study guides from Progeny Press. Visit the
Schoolhouse Review Crew blog
to see how they used the study guides in their homes.