A few years ago we had the opportunity to visit the Statue of Liberty and Ellis Island. Lydia has always been drawn to that time period in history. We were excited to get the opportunity to review Bessie's Pillow by Linda Bress Silbert from Strong Learning, Inc.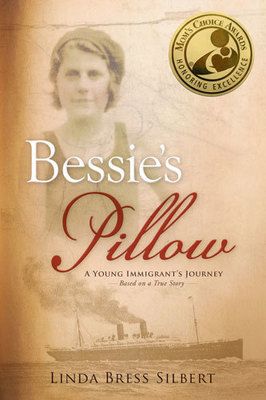 Bessie's Pillow (Printed - $15.00) is the story of the young immigrant girl in the early 1900s. This is the story of 18 year-old Boshka Markman who is preparing to leave her country of Lithuania and head to America. She is one of hundreds of thousands of Jewish immigrants who are leaving Europe to escape persecution because of the dangers so many were facing.
Written by her granddaughter, Linda Bress Silbert, it's not just a story about a pillow. Bessie is traveling alone, and a friend asks her to deliver a pillow to her son who had already moved to America. He had forgotten the pillow a year earlier when he moved, and his mother wanted to make sure that he had it. Her friend tells her that she is welcome to use the pillow along the way.
The pillow turns out to be a huge blessing, just as the words that were embroidered on it expressed. Bessie faces struggles in the new world she was not expecting. She finds more strength than she even realizes she has.
She overcomes many trials. But she knows that she must find the rightful owner of the pillow. As she is thinking this, she has no idea where searching for him will take her, including love and marriage.
But this isn't just about a pillow. It brings early twentieth century American to life. You are looking at the world through this young woman's frightened eyes. It really brings to light how much we are all alike in America.
This story was very hard to put down. It was written for late middle through high school. So this was a story that I read on my own. It was a bit above Lydia's level, but she'll be able to read this soon enough.
Also included is a teachers guide that includes links for resources to continue exploration. It gives suggestions on how to use this story in a wide variety of subject areas for different grade and study levels.
This is a wonderful story and a great addition to both history and literature studies. It really opens the mind to the struggles that were faced both in Europe and in America at this time period. And how people remained hopeful through the most tragic times. Definitely take time to read Bessie's story.